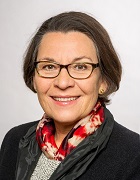 Prof. Dr. Eva-Maria Lankes
Academic Career and Research Areas
Prof. Lankes (*1953) works in the field of school and teaching research. She analyses the impact of didactic approaches on pre-school science learning (SNaKE) and evaluates an international education program on science learning (Experimento). She monitors the quality of processes and outcomes in the Bavarian education system through comparative studies and evaluation. As part of the International Primary School Reading Study (IGLU), she examines learning conditions in schools in an international comparison.
After completing her teacher training course and teaching for several years at elementary school level, she studied pedagogy at Munich's Ludwig Maximilian University (MA 1985, doctorate 1992). From 2000 to 2004, she coordinated the PIRLS program at the University of Hamburg. She obtained her lecturer qualification there in 2004 and accepted a professorship at Leuphana University Lüneburg in 2006. Since 2010, she has held the Chair of School Pedagogy at TUM. She is Director of the Quality Agency at the State Institute for School Quality and Educational Research, Munich (ISB).
Lankes EM, Burgmaier F, Rudolph-Albert F, Teubner M, Werner S: Bildungsbericht Bayern 2018. München: MDV Maristen Druck & Verlag GmbH, 2018.
Haslbeck H, Lankes EM, Kohlhauf L, Fritzsche ES, Neuhaus B: "How Do Kindergarten and Primary School Children Justify Their Decisions on Planning Science Experiments?". In: Rethinking Learning in the Digital Age: Making the Learning Sciences Count, 13th International Conference of the Learning Sciences (ICLS) 2018. Volume 3. Editor: Kay J, Luckin R. London: International Society of the Learning Sciences, 2018: 1601-1602.
Hußmann A, Wendt H, Bos W, Bremerich-Vos A, Kasper D, Lankes EM, McElvany N, Stubbe TC, Valtin R: IGLU 2016. Lesekompetenzen von Grundschulkindern in Deutschland im internationalen Vergleich. Münster: Waxmann, 2017.
Abstract
Kleinknecht M, Lankes EM, Götz D: "Mentale Modelle bilden und Textinformationen verstehen. Wie Grundschülerinnen und Grundschüler komplexe Leseaufgaben bewältigen". Zeitschrift für Grundschulforschung. 2016; 9(2): 113-124.
Abstract
Lankes EM, Vaccaro D, Gegenfurtner A: "Wie kommen die Evaluationsteams zu ihrer Einschätzung der Unterrichtsqualität bei der Externen Evaluation?". Unterrichtswissenschaft. 2013; 41(3): 197-215.
Abstract