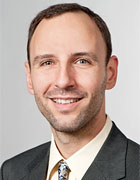 Academic Career and Research Areas
Prof. Lieleg's (*1980) research focuses on biopolymers and bio-interfaces. He studies the properties of naturally occurring biopolymer-based materials (such as mucus, biofilm or cartilage) including their viscoelasticity, selective permeability, wetting resistance and lubricity. Moreover, he develops biopolymer materials for biomedical or biotechnological applications, e.g., as contact lens coatings or additives to construction materials.
Prof. Lieleg studied physics at TUM where he also obtained his PhD degree in cellular biophysics in 2008. A postdoc-fellowship led him to Harvard University in 2009 where he conducted research in the FAS Center for Systems Biology. Afterwards, he went to MIT where he worked as an instructor in the Department of Biological Engineering from 2010-2011. In 2011, Prof. Lieleg returned to TUM where he has been Associate Professor for Biomechanics at the Munich School of Bioengineering.
Awards
Postdoc-fellowship from the German Academic Exchange Service (DAAD) (2009-2010)
PhD scholarship from the Universität Bayern e.V. (Bavarian Elite Network) (2006-2008)
Scholarship from the German Academic Scholarship Foundation (2000-2005)
Karl-von-Frisch Award for Biology (1999)
Winkeljann B, Boettcher K, Balzer B, Lieleg O: "Mucin Coatings Prevent Tissue Damage at the Cornea-Contact Lens-Interface". Advanced Materials Interfaces. 2017; 19(4): 1700186.
Abstract
Grumbein S, Minev D, Tallawi M, Boettcher K, Prade F, Pfeiffer F, Große CU, Lieleg O: "Hydrophobic Properties of Biofilm-Enriched Hybrid Mortar". Advanced Materials. 2016; 28(37): 8138-8143.
Abstract
Crouzier T, Boettcher K, Geonnotti AR, Kavanaugh NL, Hirsch JB, Ribbeck K, Lieleg O: "Modulating Mucin Hydration and Lubrication by Deglycosilation and Polyethylene Glycol Binding". Advanced Materials Interfaces. 2015; 2(18): 1500308.
Abstract
Lieleg O, Kayser J, Brambilla G, Cipelletti L, Bausch AR: "Complex Slow Dynamics in Bundled Cytoskeletal Networks". Nature Materials. 2011; 10(3): 236-242.
Abstract
Lieleg O, Vladescu I. Ribbeck K: "Characterization of particle translocation through mucin hydrogels". Biophysical Journal. 2010; 98(9), 1782-1789.
Abstract