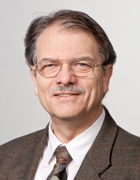 Prof. Dr. Rainer Matyssek
Academic Career and Research Areas
Prof. Matysseks (*1954) Expertise liegt in den Bereichen Experimentelle Pflanzenökologie und Ökophysiologie der Holzpflanzen mit prozessorientierter Klärung von biotischen und abiotischen Interaktionen sowie Auswirkungen auf den Kohlenstoff-, Wasser- und Nährstoffhaushalt (strukturelle und funktionelle Differenzierung, Ressourcenumsätze). Von Interesse sind Effekte von Klimawandel und Luftschadstoffen in der Offenlegung von Mechanismen der Konkurrenzfähigkeit, Stresstoleranz sowie Standortsanpassung.
Prof. Matyssek promovierte in Biologie (1985) an der Universität Bayreuth. Anschließend wurde er als Research Associate, Texas A&M University (bis 1987) und als Forschungsgruppenleiter, Swiss Federal Institute for Forest, Snow & Landscape Research tätig. Nach der Habilitation an der Universität Basel wurde er 1994 auf den Lehrstuhl für Forstbotanik an der LMU – seit 1999 Ökophysiologie der Pflanzen an der TUM berufen. Prof. Matyssek war Sprecher/Koordinator des SFB 607 "Growth and Parasite Defence" (1998-2010) und Koordinator des EU-Projekts CASIROZ (2002-2006). Er zählt mehr als 200 Publikationen und zwei Lehrbücher.
Key Publications
Grams TE, Matyssek R: "Stable isotope signatures reflect competitiveness between trees under changed CO2/O3 regimes". Environmental Pollution. 2010; 158(4): 1036-1042.
Abstract
Matyssek R, Karnosky DF, Wieser G, Percy K, Oksanen E, Grams Tee, Kubiska M, Hanke D, Pretzsch H: "Advances in understanding ozone impact on forest trees: Messages from novel phytotron and free-air fumigation studies". Environmental Pollution. 2010; 158(6): 1990-2006.
Abstract
Kozovits AR, Matyssek R, Blaschke H, Göttlein A, Grams TE: "Competition increasingly dominates the responsiveness of juvenile beech and spruce to elevated CO2 and/or O3 concentrations throughout two subsequent growing seasons". Global Chance Biology. 2005; 11: 1387-1401.
Abstract
Reiter IM, Häberle K-H, Nunn AJ, Heerdt C, Reitmayer H, Grote R, Matyssek R: "Competitive strategies in adult beech and spruce: Space-related foliar carbon investment verus carbon gain". Oecologia. 2005; 146: 337-349.
Abstract
Matyssek R, Agerer R, Ernst D, Munch J-C, Osswald W, Pretzsch H, Priesack E, Schnyder H, Treutter D: "The plant's capacity in regulating resource demand". Plant Biology . 2005; 7:560-580
Abstract