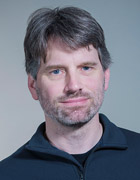 Academic Career and Research Areas
Professor Misgeld (b. 1971) is a neurobiologist, who explores the mechanisms that contribute to the degeneration of axons and synapses in neurological diseases and during normal brain development. His research team employs in vivo microscopy in the peripheral and central nervous systems of mice and zebrafish.

Professor Misgeld studied medicine at TUM (1999). A DFG Emmy Noether postdoctoral fellowship took him to Washington University in St. Louis (2000-2004) and to Harvard University in Cambridge (2004-2006). From 2006 to 2009, he was director of a Sofja Kovalevskaja Junior Research Group at the TUM Institute for Neurosciences. From 2009–11, Prof. Misgeld held the Chair of Biomolecular Sensors at TUM. Since 2012, Professor Misgeld has been a director at the TUM Institute of Neuronal Cell Biology and acted as co-spokesperson for the "SyNergy" Cluster of Excellence, a major collaborative research initiative between the two Munich universities and several non-university institutions dedicated to exploring the intersection of different major neurological disease mechanisms. Since 2018, he has co-coordinated the master's program "Biomedical Neuroscience" as part of the Elite Network Bavaria.
Awards
Heinz Maier-Leibnitz Medal, TUM (2018)
ERC Consolidator Grant (2014)
Schilling Award, German Neuroscience Society (2007)
Sofja Kovalevskaja Awarrd, Alexander von Humboldt Foundation(2006)
Robert Feulgen Award, Society for Histochemistry (2005)
Misgeld T & Schwarz T. "Mitostasis in neurons: Maintaining mitochondria in an extended cellular architecture." Neuron 2017; 96: 651-666.
Abstract
Brill MS, Kleele T, Ruschkies L, Wang M, Marahori NA, Reuter M, Hausrat TJ, Weigand E, Fisher M, Ahles A, Engelhardt S, Bishop DL, Kneussel M, Misgeld T. "Branch-specific microtubule destabilization mediates axon branch loss during neuromuscular synapse elimination." Neuron 2016; 92: 845-56.
Abstract
Breckwoldt MO, Pfister F, Bradley PM, Marinković P, Williams PW, Brill MS, Plomer B, Schmalz A, St Clair DK, Naumann R, Griesbeck O, Schwarzländer M, Godinho L, Bareyre FM, Dick TP, Kerschensteiner M, Misgeld T. "Multiparametric optical analysis of mitochondrial redox signals during neuronal physiology and pathology in vivo." Nature Medicine 2014; 20: 555-6.
Abstract
Nikić I, Merkler D, Sorbara C, Brinkoetter M, Kreutzfeldt M, Bareyre FM, Brück W, Bishop D, Misgeld T*, Kerschensteiner M.* (* equal senior authorship): "A reversible form of axon damage in experimental autoimmune encephalomyelitis and multiple sclerosis." Nature Medicine 2011; 17(4): 495-9.
Abstract
Kerschensteiner M, Schwab M, Lichtman JW, Misgeld T: "In vivo imaging of axonal degeneration and regeneration in the injured spinal cord". Nature Medicine. 2005; 11(5): 572-577.
Abstract