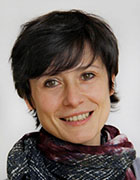 Prof. Dr. Alessandra Moretti
Academic Career and Research Areas
Alessandra Moretti (b. 1967) conducts research in the fields of stem cell biology and cardiac development. Her research focuses are 1) cardiovascular progenitors and their specification into the various heart cell lineages 2) cellular plasticity and 3) human induced pluripotent stem cells as model systems for studying cardiovascular disease and regeneration.
Moretti studied chemistry and pharmaceutical sciences in Padua and obtained her doctorate at the same university in 1997. After working for four years as a postdoctoral researcher at the University of California, San Diego and at the Massachusetts General Hospital and Harvard Medical School, she became head of the molecular cardiology research group at TUM's university hospital Klinikum rechts der Isar in 2006. Since 2015 she has been associate professor of regenerative medicine in cardiovascular disease at TUM.
Awards
Innovation prize of the German Medical Faculties (2013)
Göttingen Academy of Sciences Award for Biology (2012)
Principal investigator of the German Center of Cardiovascular Research (DZHK) (since 2011)
Astra Zeneca Award in Cardiovascular Sciences (2006)
Bracco Research Award for Young Scientists (1992)
Key Publications
Gramlich M, Pane LS, Zhou Q, Chen Z, Murgia M, Schötterl S, Goedel A, Metzger K, Brade T, Parrotta E, Schaller M, Gerull B, Thierfelder L, Aartsma-Rus A, Labeit S, Atherton JJ, McGaughran J, Harvey RP, Sinnecker D, Mann M, Laugwitz K-L, Gawaz MP, Moretti A: "Antisense-mediated exon skipping: a therapeutic strategy for titin-based dilated cardiomyopathy". EMBO Mol Med. 2015; 7:562-76.
Abstract
Bellin M, Casini S, Davis RP, D'Aniello C, Haas J, Ward-van Oostwaard D, Tertoolen LGJ, Jung CB, Elliott DA, Welling A, Laugwitz KL, Moretti A, Mummery CL: "Isogenic human pluripotent stem cell pairs reveal the role of a KCNH2 mutation in long-QT syndrome". EMBO J. 2013; 32: 3161-3175.
Abstract
Moretti A, Bellin M, Welling A, Jung CB, Lam JT, Bott-Flügel L, Dorn T, Gödel A, Höhnke C, Hofmann F, Seyfarth M, Sinnecker D, Schömig A, Laugwitz KL: "Patient-specific induced pluripotent stem cell models for long-QT syndrome". N Engl J Med. 2010; 363: 1397-1409.
Abstract
Moretti A, Caron L, Nakano A, Lam J, Chen Y, Qyang Y, Sasaki M, Yunfu S, Evans S, Laugwitz KL, Chien KR: "Multipotent embryonic Isl1+ progenitor cells lead to cardiac, smooth muscle, and endothelial cell diversification". Cell. 2006; 127: 1151-1165.
Abstract
Laugwitz KL, Moretti A, Lam J, Gruber P, Chen Y, Woodard S, Lin LZ, Cai CL, Lu M, Reth M, Platoshyn O, Yuan J, Evans S, Chien KR: "Postnatal Isl1+ cardioblasts enter fully differentiated cardiomyocyte lineages". Nature. 2005; 433: 647-653.
Abstract