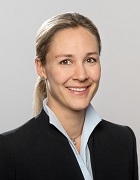 Academic Career and Research Areas
The research of Professor Peus focuses primarily on the human, organizational and corporate factors that influence effective leadership in science and the economy. She combines experimental laboratory research with field work and performs international comparative studies. Another emphasis of her work is the development, implementation and evaluation of interventions to promote innovation and performance in scientific and research organizations as well as in enterprises.
In 2005 Professor Peus earned her PhD at LMU Munich. Later she was a visiting scholar at the Sloan School of Management of the Massachusetts Institute of Technology as well as a post-doctoral fellow at Harvard. She returned to LMU in 2007 as Project Manager for the Center for Leadership and People Management where she implemented an evidence-based scientific management system and acquired her postdoctoral teaching qualification (habilitation). In 2011 she was appointed Professor of Research and Scientific Management at TUM. Since 2017 she has been Senior Vice President Talent Management and Diversity.
Awards
Highly Cited Research Award, Leadership Quarterly (2016)
Emerald Citations of Excellence Award (2016)
Best Teaching Award der TUM School of Mangement (2014)
Best International Symposium Award der Academy of Management (2010)
Wissenschaftspreis der Bayerischen Landesbank (2006)
Key Publications
Peus C, Braun S, Knipfer K: "On becoming a leader in Asia and America: Empirical evidence from women managers". The Leadership Quarterly. 2015; 26: 55-67.
Abstract
Peus C, Braun S, Frey D: "Situation-based measurement of the full range of leadership model - Development and validation of a situational judgement test". The Leadership Quarterly. 2013; 24: 777-795.
Abstract
Braun S*, Peus C*, Weisweiler S, Frey D: "Transformational leadership, job satisfaction, and team performance: A multilevel mediation model of trust". The Leadership Quarterly. 2013; 24(1): 270-283. [*equal contribution]
Abstract