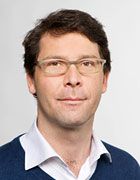 Prof. Dr. Alexander Pretschner
Kontakt
Academic Career and Research Areas
The research area of Professor Pretschner is software and systems engineering. His main focus is on testing and information security.
Professor Pretschner studied computer science at RWTH Aachen and at the University of Kansas where he was a Fulbright grant recipient. After obtaining his doctorate at TUM, he worked as a senior researcher at ETH Zurich for five years. Within the framework of the Fraunhofer Attract Program he then moved on to head a research group at the Fraunhofer Institute for Experimental Software Engineering in Kaiserslautern. Parallel to this he was an adjunct associate professor at TU Kaiserslautern. Before joining TUM as a full professor in 2012, Professor Pretschner was a full professor at Karlsruhe Institute of Technology.
Prof. Pretschner has been founding director of the Bavarian Research Institute for Digital Transformation since 2018. Since 2016 he has served as scientific director and since 2019 spokesman of the scientific board of fortiss, the Bavarian state research institute for software-intensive systems and services.
Awards
IBM Faculty Award (2012, 2013)
Google Focused Research Award (2011, 2012)
Fraunhofer Attract (2008-2013)
Fulbright scholarship (1999)
Kelbert F, Pretschner A: "Data Usage Control for Distributed Systems". ACM Transactions on Privacy and Security (TOPS). 2018; 21 (3): 12:1-12:32.
Abstract
Banescu S, Collberg C, Pretschner A: "Predicting the Resilience of Obfuscated Code Against Symbolic Execution Attacks via Machine Learning". 26th Usenix Security Symposium. Vancouver. 16-18 August 2017: 661-678.
Abstract
Banescu S, Collberg C, Ganesh V, Newsham Z, Pretschner A: "Code Obfuscation Against Symbolic Execution Attacks". In: Proceedings of the 32nd Annual Computer Security Applications Conference. New York: ACM, 2016: 189-200.
Abstract
Pretschner A, Holling D, Eschbach R, Gemmar M: "A Generic Fault Model for Quality Assurance". In: Model-Driven Engineering Languages and Systems. Editors: Moreira A, Schätz B, Gray J, Vallecillo A, Clarke P. Berlin, Heidelberg: Springer, 2013: 87-103.
Abstract
Ciupa I, Pretschner A, Oriol M, Leitner A, Meyer B: "On the number and nature of faults found by random testing". Software Testing, Verification and Reliability. 2011; 21 (1): 3-28.
Abstract