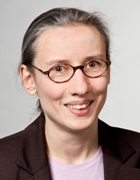 Academic Career and Research Areas
Professor Rolles (b. 1972) carries out research in the field of probability theory. She is especially interested in processes in random media, interactive particle systems and statistical mechanics.
After studying mathematics at Saarland University, she conducted research at EURANDOM in Eindhoven (Netherlands) and received her doctorate in 2002 at the University of Amsterdam. She acquired her postdoctoral teaching qualification (habilitation) in Bielefeld in 2005. Her scientific career has taken her to the University of California in Los Angeles, the Technical University of Eindhoven and the University of Zurich.
Awards
Teaching Award Golden Circle of the Student Council Mathematics (2017)
Award for Outstanding Work of Young Scientists in the Field of Stochastics (2004)
Merkl F, Rolles SWW and Tarrès P: "Convergence of vertex-reinforced jump processes to an extension of the supersymmetric hyperbolic nonlinear sigma model". Probability theory and related fields. 2019; 173(3-4): 1349–1387.
Abstract
Bauerschmidt, R; Conache, D; Heydenreich, M; Merkl, F; Rolles, SWW: "Dislocation lines in three-dimensional solids at low temperature". Ann. Henri Poincaré 20 (9), 2019, 3019--3057.
Abstract
Disertori M, Merkl F, Rolles SWW: "Localization for a nonlinear sigma model in a strip related to vertex reinforced jump processes". Communications in Mathematical Physics. 2014; 332(2): 783-825.
Abstract
Merkl F, Rolles SWW: "Recurrence of edge-reinforced random walk on a two-dimensional graph". The Annals of Probability. 2009; 37(5): 1679-1714.
Abstract
Merkl F, Rolles SWW: "Edge-reinforced random walk on one-dimensional periodic graphs". Probability Theory and Related Fields. 2009; 145 (3-4): 323-349.
Abstract