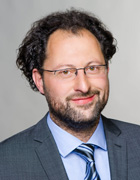 Academic Career and Research Areas
The research work of Professor Sauer spans the fields of production economics, natural resource economics and applied econometrics. The primary focus of this research work is on the productivity and sustainability of farms and companies in the agricultural sector, issues surrounding the adoption and widespread use of innovative technologies, the evaluation of agri-environmental programs and the economic evaluation of water resources and natural disasters.
Professor Sauer studied at the Universities of Tübingen and Hamburg and at Imperial College London. In 1998 he completed his first degree in political science and economics and in 1999 he obtained a master's degree in agricultural economics. In 2004, while working in parallel as a management consultant, he was awarded a PhD with Distinction from the University of Bonn. Subsequently he worked as an assistant and associate professor at the University of Copenhagen (2005-2007) and as a lecturer and senior lecturer at Imperial College London and the University of Manchester (2007-2011). Before joining TUM he held an endowed chair at the University of Kiel and was also a visiting professor at Princeton University and UC Berkeley. Professor Sauer is advisor to the OECD productivity network, member of the UK ESRC Peer Review College and appointed Liaison Professor of the German National Academic Foundation.
Awards
Best Paper and Best Presentation Awards, German Association of Agricultural Economists, Annual Conferences Hohenheim, Halle and Bonn (2008, 2011 and 2012)

OECD Fellowship, Co-operative Research Programme, Sustainable Agricultural Systems, OECD, Paris, France (2010)
Key Publications
Gallardo RK, Sauer J: "Adoption of Labor-Saving Technologies in Agriculture". Annual Review of Resource Economics. 2018; 10 (1): 185-206.
Abstract
Frick F, Sauer J: "Deregulation and Productivity: Empirical Evidence on Dairy Production." American Journal of Agricultural Economics. 2018; 100 (1): 354-378.
Abstract
Kazukauskas A, Newman C, Clancey D, Sauer J: "Disinvestment, Farm Size and Gradual Farm Exit". American Journal of Agricultural Economics. 2013; 95 (5): 1068-1087.
Abstract
Sauer J, Wossink A: "Marketed Outputs and Non-Marketed Ecosystem Services". European Review of Agricultural Economics. 2013, 40 (4): 573-603.
Abstract
Karantininis K, Sauer J, Furtan H: "Innovation and Integration in the Agri-Food Industry." Food Policy. 2010; 35 (2): 112-120.
Abstract