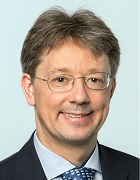 Academic Career and Research Areas
Research conducted at Professor Sieber's Chair is aimed at developing technical processes for the sustainable production of bulk and fine chemicals from biogenic raw materials and renewable energy. The technological focus is on industrial (chemical) biotechnology. By applying methods from biochemistry, microbiology and molecular biology, new biocatalysts (enzymes, cells or micro­organisms) are developed and then combined with chemical catalysts in cascade reactions.
Professor Sieber (b. 1970) studied chemistry at the University of Bayreuth and the University of Delaware. After obtaining his doctorate he went to the California Institute of Technology as a research fellow. Following a brief sojourn at McKinsey & Co., Professor Sieber held a number of positions in the chemicals industry between 2001 and 2008 (Degussa, Süd-Chemie). He has been a full professor at TUM since late 2008. Since 2009, he has built up the Fraunhofer Institute's branch BioCat, which he currently directs.
Awards
Honorary Professor of the University of Queensland (since 2017)
Founding member of the Council on Bioeconomy for the government of the Free State of Bavaria (since 2015)
Protein Society Award (1998)
Key Publications
Beer B, Pick A, Sieber V: "In vitro metabolic engineering for the production of a-ketoglutarate". Metabolic Engineering. 2017; 40: 5-13.
Abstract
Nowak C, Pick A, Lommes P, Sieber V: "Enzymatic Reduction of Nicotinamide Biomimetic Cofactors Using an Engineered Glucose Dehydrogenase – Providing a Regeneration System for Artificial Cofactors". ACS Catalysis. 2017; 7: 5202–5208.
Abstract
Sperl JM, Carsten JM, Guterl J-K, Lommes P, Sieber V: "Reaction Design for the Compartmented Combination of Heterogeneous and Enzyme Catalysis". ACS Catalysis. 2016; 6(10): 6329–6334.
Abstract
Reiter J, Strittmatter H, Wiemann LO, Schieder D, Sieber V: "Enzymatic cleavage of lignin beta-O-4 aryl ether bonds via net internal hydrogen transfer". Green Chemistry. 2013; 15: 1373-1381.
Abstract
Sieber V, Plückthun A, Schmid FX: "Selecting proteins with improved stability by a phage-based method". Nature Biotechnology. 1998; 16: 955-960.
Abstract