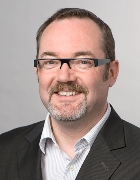 Academic Career and Research Areas
Prof. Weilacher (*1963) conducts research on international landscape architecture and the transformation of industrial landscapes and urban spaces into natural and human habitats. His research also extends to contemporary landscape art, 20th century landscape architecture and creative analysis and design methods in his field.
After studying landscape architecture at TUM and California State Polytechnic University Pomona/Los Angeles, Prof. Weilacher was a research fellow and lecturer at the University of Karlsruhe and the Swiss Federal Institute of Technology (ETH) Zurich. In 2001, he did his doctorate with distinction at ETH Zurich. He was appointed professor of landscape architecture and design at the University of Hanover in 2002. He served as the Dean of the Faculty of Architecture and Landscape Sciences from 2006 to 2008. In 2009, he accepted the position of full professor at TUM. Prof. Weilacher is the author of numerous internationally published books. He is a member of the German Work Federation, the Bavarian Chamber of Architects, the German Society for Garden Art and Landscape Culture and the advisory board of the Center for Garden Art and Landscape Architecture. He is a member of the advisory board of the Center for Garden Art and Landscape Architecture at the University of Hanover (Leibniz Universität Hannover).
Awards
Mellon Fellow in Urban Landscape Studies, Dumbarton Oaks Research Centre (Harvard University), Washington, D.C. (2017)
John Brinckerhoff Jackson Book Prize, New York (2011)
Medaille der ETH Zürich für Dissertation (2001)
Peter Joseph Lenné-Preis (1996)
Schinkelpreis (1995)
Weilacher U: "Wider das Erstarren im Thesenhaften". In: Dieter Kienast. Die Poetik des Gartens. Über Chaos und Ordnung in der Landschaftsarchitektur. Editor: Professur für Landschaftsarchitektur ETH Zürich. Basel: Birkhäuser Verlag, 2024: 211-225.
Abstract
Weilacher U et. al.: "Waterways transformation in the vulnerable port city of Alexandria". Cities. 2023; Band 141: 1-19.
Abstract
Weilacher U: "Die Stadt als Sondertypus der Landschaft: Zur zukünftigen Rolle der Landschaftsarchitektur im Städtebau". In: Planung für Morgen. Zukunft Stadt und Raum. Editor: Greif F. Kurth D. Scholl B. Berlin: Jovis, 2023: 179-190.
Abstract
Weilacher U: "Landscape as a Complex Spatial System in the Anthropocene/ Komplexes Raumsystem Landschaft im Anthropozän". In: Grenzen überschreiten - Räume aktivieren. Crossing Borders - Activating Spaces. Editor: Internationales Doktorandenkolleg 'Forschungslabor Raum'. Berlin: Jovis, 2021: 282-291.
Abstract
Weilacher U: "Garden Thinking in Cities of Tomorrow". SPOOL. Journal of Architecture and the Built Environment. 2020; Band 6: 113-130.
Abstract