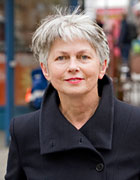 Academic Career and Research Areas
The main research areas of the Chair of Urban Design and Regional Planning include contextual urbanism and cityscapes, the defining characteristics of a city (identity, image, branding), city architecture and performative urbanism.
Prof. Wolfrum studied spatial planning at the University of Dortmund and passed the state examination in urban design in 1984. In 1989, she and Prof. Alban Janson founded the firm Janson + Wolfrum Architektur + Stadtplanung, which has received numerous awards. From 1995 to 1996, Prof. Wolfrum was a visiting professor at the University of Kassel's School of Urban Planning and Landscape Architecture. Since 2003, she has been professor of Urban Design and Regional Planning at TUM's Faculty of Architecture. Prof. Wolfrum is a member of the German Academy for Urban Regional Spatial Planning (DASL) and an expert adjudicator on several juries. She is also a member of various consulting committees, including Baukollegium Zürich 2006-10, iba see 2002-10, architectural advisory boards for the towns of Lörrach, Pforzheim and Ostfildern and the Goethe Institute's Advisory Council on Science and Current Affairs.
Wolfrum, Sophie and Nikolai v. Brandis (Eds.): "Performative Urbanism", Berlin 2015.
Wolfrum, Sophie (Hrsg.): "PLATZATLAS. Stadträume in Europa", Basel 2015.
Wolfrum, Sophie und Alexandra Block, Markus Lanz, Franz Schiermeier: "Theodor Fischer ATLAS. Städtebauliche Planungen München", München 2012.
Wolfrum, Sophie und Winfried Nerdinger (Hrsg.): "MULTIPLE CITY. Stadtkonzepte 1908 | 2008", Berlin 2008.