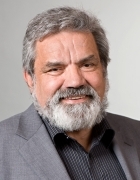 Prof. Dr. Gerhard Abstreiter
Professorship
Research groups Experimentelle Halbleiter Physik I (Walter Schottky-Institut)
Professor emeritus since April 1, 2015
Academic Career and Research Areas
Professor Abstreiter's (b. 1946) research examines low-dimensional semiconductor systems based on silicon and gallium arsenide. He develops innovative components based on quantum effects. For this purpose, he carries out fundamental research on the electronic and optical properties of quantum points and quantum wires.
After studying physics at TUM, Professor Abstreiter was awarded a doctorate there in 1975. He subsequently worked at the Max Planck Institute for Solid State Research in Stuttgart before assuming the position of full professor at TUM in 1987. As a visiting professor he lectures at the University of Santa Barbara, Columbia University (New York) and Tokyo University, among others. Since 2007, he has been a member of the Bavarian Academy of Sciences and Acatech (German National Academy of Science and Engineering).
Key Publications
Fontcuberta i Morral A, Spirkoska D, Arbiol J, Heigoldt M, Morante JR, Abstreiter G: "Prismatic quantum heterostructures synthesized on molecular-beam epitaxy GaAs nanowires". Small. 2008; 4: 899.
Abstract
Rant U, Arinaga K, Scherer S, Pringsheim E, Fujita S, Yokoyama N, Abstreiter G,: "Switchable DNA interfaces for the highly sensitive detection of label-free DNA targets". PNAS. 2007; 104: 17364-17369.
Abstract
Krenner HJ, Sabathi M, Clark EC, Kress A, Schuh D, Bichler M, Abstreiter G, Finley JJ: "Direct observation of controlled coupling in an individual quantum dot molecule". Phys. Rev. Lett. 2005; 94: 057402.
Abstract
Kroutvar M, Ducommun Y, Heiss D, Bichler M, Schuh D, Abstreiter G, Finley JJ: "Optically programmable electron spin memory using semiconductor quantum dots". Nature. 2004; 432: 81-84.
Abstract
Zrenner A, Beham E, Stufler S, Findeis F, Bichler M, Abstreiter G: "Single quantum dot photodiodes: Coherent properties of a two-level system with electric contacts". Nature. 2002; 418: 612-614.
Abstract