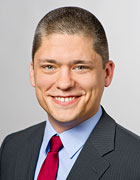 Academic Career and Research Areas
Professor Alexy (b. 1980) is active in the field of management research. His main focus is on the contribution of organization design and capabilities toward the strategic renewal of established companies and the establishment and growth of start-ups. In this context he particularly focuses on the role of open and distributed innovation processes and networks.
Professor Alexy holds a degree in information systems from the University of Regensburg (2005) and a PhD in management from TUM (2008). After his doctoral studies he worked as a postdoctoral researcher at Imperial College London where he was appointed temporary lecturer in 2011. He has been a guest researcher at Harvard Business School and MIT (2008) and Politecnico di Milano (2011). In 2012 he accepted an offer to take on the newly created professorship in strategic entrepreneurship.
Awards
Outstanding Teaching Award, Imperial College Business School (2011)
EBS Best-Paper-Award Innovation Management (2010)
Finalist (one of four), Best Dissertation Award, Technology and Innovation Management (TIM) Division, Academy of Management Conference 2009, Chicago, IL.
Finalist (one of three), Best Doctoral Dissertation Award, DRUID Summer 2009, Copenhagen, Denmark
Alexy O, West J, Klapper H, Reitzig M: "Surrendering Control to Gain Advantage: Reconciling Openness and the Resource-based View of the Firm". Strategic Management Journal. 2017; forthcoming.
Abstract
Dattée B, Alexy O, Autio E: "Maneuvering in Poor Visibility: How Firms Play the Ecosystem Game when Uncertainty is High". Academy of Management Journal. 2017; forthcoming.
Abstract
Ter Wal ALJ, Alexy O, Block J, Sandner PG: "The Best of Both Worlds: The Benefits of Open-specialized and Closed-diverse Syndication Networks for New Ventures' Success". Administrative Science Quarterly. 2016; 61(3): 393-432.
Abstract
Puranam P, Alexy O, Reitzig M: "What's "New" About New Forms of Organizing?". Academy of Management Review. 2013; 39(2): 162-180.
Abstract
Alexy O, George G, Salter A: "Cui Bono? The Selective Revealing of Knowledge and Its Implications for Innovative Activity". Academy of Management Review. 2013; 38(2): 270-291.
Abstract