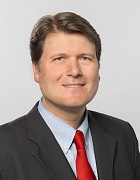 Prof. Dr. Constantinos Antoniou
Academic Career and Research Areas
The research area of Constantinos Antoniou (b. 1973) is transportation systems engineering. His research focuses primarily on the modelling and simulation of transportation systems, intelligent transport systems (ITS), the calibration and optimization of applications, and the application of behavioral economics in transport, road safety and sustainable transport systems.
Professor Antoniou holds a degree in civil engineering from the National Technical University of Athens in Greece (1995) as well as a master's degree in transportation (1997) and a PhD in transportation systems (2004) from MIT (USA). He has authored more than 300 scientific publications, including more than 100 papers in international, peer-reviewed journals, 200 published in international conference proceedings, two books and 20 book chapters. He is a member of several scientific organizations and committees, including the Transport Research Board and the Road and Transportation Research Association (FGSV). Professor Antoniou sits on the editorial boards of various international journals such as Transportation Research - Part C: Emerging Technologies, Accident Analysis and Prevention and Journal of Intelligent Transportation Systems.
Awards
Best Simulation Application Paper Award, Transportation Research Board (TRB) (2018)
Outstanding Paper Award, TRB Committee (2013)
Outstanding Application Award, IEEE ITS (2011)
Marie Curie Fellowship, International Reintegration Grant, European Union (2006-2008)
Milton Pikarsky Memorial Award "For an Outstanding Master of Science Thesis" (1997)
Key Publications
Antoniou C, Dimitriou L, Pereira F: Mobility Patterns, Big Data and Transport Analytics. Tools and Applications for Modeling. Elsevier, 2018.
Abstract
Ma T, Zhou Z, Antoniou C: "Dynamic Factor Model for Network Traffic State Forecast". Transportation Research Part B: Methodological. 2018; 118: 281-317.
Abstract
Antoniou C, Azevedo CL, Lu L, Pereira F, Ben-Akiva M: "W-SPSA in practice: Approximation of weight matrices and calibration of traffic simulation models". Transportation Research Part C: Emerging Technologies. 2015; 59: 129-146.
Abstract
Antoniou C, Koutsopoulos HN Yannis G: "Dynamic Data-Driven Local Traffic State Estimation and Prediction". Transportation Research Part C: Emerging Technologies. 2013; 34: 89-107.
Abstract
Tyrinopoulos Y, Antoniou C: "Public transit user satisfaction: Variability and policy implications". Transport Policy. 2008; 15(4): 260-272.
Abstract