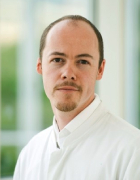 Apl. Prof. Dr. Sebastian Kufner
Academic Career and Research Areas
Prof. Kufner's (*1982) research area is clinical research zut interventional treatment of coronary artery disease, drug-eluting stents, peri- and post-procedural antithrombotic therapy, treatment of in-stent restenosis, and long-term clinical follow-up after coronary intervention.
His medical and scientific career led from his studies in human medicine at the Ludwig-Maximilians University and the TUM to his residency at the Klinikum rechts der Isar and the German Heart Center Munich. Already in 2006, he started his scientific work at the German Heart Center Munich with a focus on interventional treatment of coronary heart disease. In 2016, he completed his habilitation. In 2022, he was appointed as an associate professor at the Technical University of Munich in an accelerated procedure.
Awards
Andreas Grünzig Research Award of the German Society of Cardiology (2021)
Young Author Achievement Award of the American College of Cardiology (2018)
Young Investigator Award of the German Society of Cardiology (2017)
Key Publications
Kufner S, et al. Ten-Year Clinical Outcomes from a Randomized Trial of Polymer-Free Versus Durable Polymer Drug-Eluting Stents. J Am Coll Cardiol. 2020 July 14;76(2):146-158.
Abstract
Kufner S, et.al Ten-Year Clinical Outcomes From a Trial of Three Limus-Eluting Stents With Different Polymer Coatings in Patients With Coronary Artery Disease. Circulation. 2019 Jan 15;139(3):325-333.
Abstract
Colleran R, Kufner S, et al. ISAR-CABG Investigators Efficacy Over Time With Drug-Eluting Stents in Saphenous Vein Graft Lesions. J Am Coll Cardiol. 2018 May 8;71(18):1973-1982.
Abstract
Kufner S et. al. Neointimal Modification With Scoring Balloon and Efficacy of Drug-Coated Balloon Therapy in Patients With Restenosis in Drug-Eluting Coronary Stents: A Randomized Controlled Trial JACC Cardiovasc Interv. 2017 Jul 10;10(13):1332-1340.
Abstract
Kufner S et al. Long-Term Efficacy and Safety of Paclitaxel-Eluting Balloon for the Treatment of Drug-Eluting Stent Restenosis: 3-Year Results of a Randomized Controlled Trial. JACC Cardiovasc Interv. 2015 Jun;8(7):877-84.
Abstract