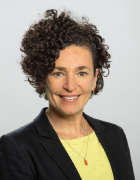 Prof. Dr. Clarissa Prazeres da Costa
Academic Career and Research Areas
Prof. Prazeres da Costa's (*1968) conducts research in global health and neglected tropical diseases (NTDs). She focuses on understanding the immunology of host-parasite interaction and it's impact on fetomaternal crosstalk as driver of offspring disease development later in life. Her group approaches these topics via experimental models and omics-driven data acquisition from clinical trials in Africa. Interdisciplinarily, she is advancing development of NTD diagnostics and therapeutics by integrating novel technologies such as machine learning.
After studying human medicine (TUM) with stays abroad (England, Nepal, India), Prof. Prazeres da Costa obtained her PhD in 1995 (TUM), and in 2004 became a specialist in medical microbiology and infectious disease epidemiology. After a postdoctoral period (1999-2005) at the Institute of Medical Microbiology, Immunology and Hygiene of TUM, she habilitated in microbiology and immunology in 2010 and has been leading her independent research group since 2005. Since 2016 she is co-director and co-founder of the Center for Global Health.
Helminth larval metabolic products alter microglia functions and potentiate regulatory T cell induction via modulation of PGE2 and IL-10 production in monocytes. Prodjinotho UF, Gres V, Fiona Henkel F, Schmidt V, Winkler AS, Sikasunge C, Hennecke P, Esser-von Bieren J, Prazeres da Costa C. EMBO Rep. 2022 May 4;23(5):e54096. PMID: 35357743.
Abstract
Lacorcia M, Bhattacharjee S, Laubhahn K, Alhamdan F, Ram M, Muschaweckh A, Potaczek DP, Kosinska A, Garn H, Protzer U, Renz H, Prazeres da Costa C Fetomaternal immune crosstalk modifies T cell priming through sustained changes to DC function. J Allergy Clin Immunol. 2021 Mar 5:S0091-6749(21)00360-2. PMID: 33684437
Abstract
Bhattacharjee S, Loffredo-Verde, Toska A, Flossdorf M, Mejías-Luque R, Gerhard M, Prazeres da Costa C. Concomitant infection of S. mansoni and H. pylori promotes promiscuity of antigen experienced cells and primes the liver for a lower fibrotic response. Cell Rep. 2019 Jul 2;28(1):231-244.e5. PMID: 31269443.
Abstract
Maternal immune response to helmith infection during pregnancy determines offspring susceptibility to allergic airway inflammation. Straubinger K, Paul S, Prazeres da Costa O, Buch T, Busch DH, Layland L, Prazeres da Costa C J Allergy Clin Immunol. 2014 Dec 18. pii: S0091-6749(14)00794-5. PMID: 25042744
Abstract
Ritter M, Gross O, Kays S, Ruland J, Nimmerjahn F, Saijo S, Tschopp J, Layland LE, Prazeres da Costa C. Schistosoma mansoni triggers Dectin-2, which activates the Nlrp3 inflammasome and alters adaptive immune responses. Proc Natl Acad Sci U S A. 2010 Nov 23;107(47):20459-64. PMID: 21059925
Abstract