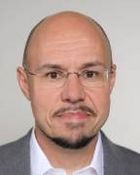 Apl. Prof. Dr. Vorname Nachname
Academic Career and Research Areas
Prof. Wölfel (*1974) works as a Bundeswehr medical officer in the field of medical defence against biological warfare agents and dangerous infectious diseases. His scientific work focuses on the rapid identification and molecular characterization of rare pathogens and biological toxins, the development of diagnostics and equipment for rapid worldwide deployment, and the prevention and protection against biological warfare, bioterrorism and biocrime.
Prof. Wölfel studied after training as a military officer from 1994 to 2000 medicine in Marburg and Giessen. He obtained his doctorate in Marburg in 2000. From 2003, he was trained as a consultant microbiologist, virologist and infection epidemiologist at the Bundeswehr Institute of Microbiology (IMB), the Bernhard Nocht Institute of Tropical Medicine and the TUM Institute of Medical Microbiology. He habilitated at the University of Leipzig in 2015 and became director of the IMB in 2019. In 2021, he was appointed as an adjunct professor at TUM.
Awards
Gold Cross of Honour of the Bundeswehr (2020)
Silver Cross of Honour of the Bundeswehr (2011)
Paul Schürmann Award, German Society of Military Medicine and Military Pharmacy (2006)
Hans Hartwig Clasen Young Scientists Award, German Society of Military Medicine and Military Pharmacy (2005)
NATO Service Medal for the Balkans (2003)
Clinical and virological features of first human monkeypox cases in Germany. Noe S, Zange S, Seilmaier M, Antwerpen MH, Fenzl T, Schneider J, Spinner CD, Bugert JJ, Wendtner CM, Wölfel R. Infection. 2022 Jul 11:1-6.
Abstract
Virological assessment of hospitalized patients with COVID-2019. Wölfel R, Corman VM, Guggemos W, Seilmaier M, Zange S, Müller MA, Niemeyer D, Jones TC, Vollmar P, Rothe C, Hoelscher M, Bleicker T, Brünink S, Schneider J, Ehmann R, Zwirglmaier K, Drosten C, Wendtner C. Nature. 2020 May;581(7809):465-469.
Abstract
Transmission of 2019-nCoV Infection from an Asymptomatic Contact in Germany. Rothe C, Schunk M, Sothmann P, Bretzel G, Froeschl G, Wallrauch C, Zimmer T, Thiel V, Janke C, Guggemos W, Seilmaier M, Drosten C, Vollmar P, Zwirglmaier K, Zange S, Wölfel R, Hoelscher M. N Engl J Med. 2020 Mar 5;382(10):970-971.
Abstract
Lassa and Crimean-Congo Hemorrhagic Fever Viruses, Mali. Baumann J, Knüpfer M, Ouedraogo J, Traoré BY, Heitzer A, Kané B, Maiga B, Sylla M, Kouriba B, Wölfel R. Emerg Infect Dis. 2019 May;25(5):999-1002.
Abstract
Virus detection and monitoring of viral load in Crimean-Congo hemorrhagic fever virus patients. Wölfel R, Paweska JT, Petersen N, Grobbelaar AA, Leman PA, Hewson R, Georges-Courbot MC, Papa A, Günther S, Drosten C. Emerg Infect Dis. 2007 Jul;13(7):1097-100.
Abstract