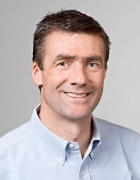 Academic Career and Research Areas
The research of Prof. Bach (b. 1965) is focused on organic synthesis chemistry, in particular stereoselective transformations. He has developed new methods using, among others, photochemical processes, the research into and use of new catalytic reactions (C-H activation, oxidation catalysis, Lewis acid catalysis) and the total synthesis of complex natural products (including GE 2270 A, meloscine, podophyllotoxin, punctaporonin C).
After studying chemistry at the University of Heidelberg and the University of Southern California, he received his doctorate in 1991 at the University of Marburg. After a postdoctoral stay at Harvard University (with D.A. Evans), he commenced his lecturing qualification at the University of Münster (1992-1996). He subsequently took up a teaching and research role at the University of Marburg (1997-2000) before moving to TUM in 2000. Since 2006, he has been an elected member of the German Academy of Sciences (Leopoldina) and he became a member of the Bavarian Academy of Sciences in 2009.
Awards
Gottfried Wilhelm Leibniz Prize, German Research Foundation (2020)
Horst-Pracejus-Preis, Gesellschaft Deutscher Chemiker (2017)
European Research Council (ERC) Advanced Grant (2015)
Degussa Award for Chirality in Chemistry (2006)
Novartis European Young Investigator Award (2004)
Annapureddy, Rajasekar Reddy; Jandl, Christian; Bach, Thorsten: "A Chiral Phenanthroline Ligand with a Hydrogen-Bonding Site: Application to the Enantioselective Amination of Methylene Groups". J. Am. Chem. Soc. 2020; 142 (16): 7374-7378.
Abstract
Leverenz, Malte; Merten, Christian; Dreuw, Andreas; Bach, Thorsten: "Lewis Acid Catalyzed Enantioselective Photochemical Rearrangements on the Singlet Potential Energy Surface". J. Am. Chem. Soc. 2019; 141: 20053-20057.
Abstract
Zech, Andreas; Jandl, Christian; Bach, Thorsten: "Concise Access to the Skeleton of Protoilludane Sesquiterpenes through a Photochemical Reaction Cascade: Total Synthesis of Atlanticone". C. Angew. Chem. Int. Ed. 2019; 58, 14629-14632.
Abstract
Hölzl-Hobmeier, Alena; Bauer, Andreas; Vieira Silva, Alexandre; Huber, Stefan M.; Bannwarth, Christoph; Bach, Thorsten: "Catalytic deracemization of chiral allenes by sensitized excitation with visible light". Nature. 2018; 564: 240-243.
Abstract
Brimioulle R, Bach T: "Enantioselective Lewis Acid Catalysis of Intramolecular Enone [2+2] Photocycloaddition Reactions". Science. 2013; 342: 840-843.
Abstract