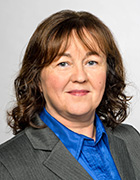 Academic Career and Research Areas
The research focus of Professor Maria Bannert lies on the educational and psychological aspects of teaching and learning with digital media. She conducts experimental research in the laboratory focusing on the online-analysis of learning processes. She also performs exploratory and quasi-experimental research in the field. The general goal is to support and advance teaching and learning with digital media in different learning contexts.
Professor Bannert studied psychology at the University of Heidelberg where she also worked at various institutes including the Human Factors Lab of the IBM Scientific Center Heidelberg. Subsequently, she acquired her doctoral degree and postdoctoral teaching qualification (Habilitation) from the University of Koblenz-Landau. She held an interim professorship of Educational Psychology at Heidelberg University of Education, and in 2004 became a chair-holder of Educational Media at the Chemnitz University of Technology. In 2011 she was appointed Chair of Instructional Media at the Institute of Human-Computer-Media at the University of Würzburg. She has held the Chair of Teaching and Learning with Digital Media at TUM since October 2015.
Awards
Junior Scientist, Programme: Learning in Humans and Machines, European Scientific Foundation (ESF) (1994-1997)
Best Dissertation 1996 of University Koblenz-Landau, Campus Landau, Freundeskreis der Universität Koblenz-Landau e.V. (1996)
Key Publications
Bannert M, Sonnenberg C, Mengelkamp C, Pieger E: "Short- and long-term effects of students' self-directed metacognitive prompts on navigation behavior and learning performance". Computers in Human Behavior. 2015; 52: 293-306.
Abstract
Bannert M, Reimann P, Sonnenberg C: "Process mining techniques for analysing patterns and strategies in students' self-regulated learning". Metacognition and Learning. 2014; 9(2): 161-185.
Abstract
Bannert M, Reimann P: "Supporting self-regulated hypermedia learning through prompts". Instructional Science. 2011; 1: 193-211.
Abstract
Bannert M, Mengelkamp C: "Assessment of metacognitive skills by means of instruction to think aloud and reflect when prompted. Does the verbalisation method affect learning?". Metacognition and Learning. 2008; 3(1): 39-58.
Abstract
Schnotz W, Bannert M: "Construction and interference in learning from multiple representation". Learning & Instruction. 2003; 13: 141-156.
Abstract