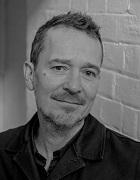 Academic Career and Research Areas
Studio Krucker Bates examines current issues in urban development and housing construction in Europe and beyond. Students are encouraged to explore reference from historical precedents as well as everyday life, to question conventions and traditional ways of thinking about architecture and the spaces we live in.
Stephen Bates graduated from the Royal College of Art in London in 1989. After working in London and Barcelona, ​​he co-founded Sergison Bates architects with Jonathan Sergison in 1996. In 2006 the practice was awarded the Heinrich Tessenow Gold Medal for Architecture and the Erich Schelling Medal for Architecture, and many of their projects have earned international recognition and prestigious awards. Stephen Bates has taught at various architecture schools, including the Architectural Association in London, ETH Zurich and EPFL Lausanne, ESARQ and ETSAB in Barcelona, the Oslo School of Architecture and Design and the Harvard University Graduate School of Design. He has served on many international architectural competition juries, including the Iberian Premis FAD, the Stirling Prize in the UK, the Belgian Prize for Architecture the EU Mies van der Rohe Award.
Key Publications
Sergison J, Bates S: Papers 2: Sergison Bates architects. London: Editorial Gustavo Gili, 2007.
Chipperfield D, Ursprung P, Forty A, Allsison P: "Sergison Bates", 2G n.34. Barcelona: Editorial Gustavo Gili, 2005.
Salter P; Sergison J, Bates S: "Brick-work: thinking and making". Zurich: gta publications 2005.
Krucker B, Davidovici I, Sergison J, Bates S: "Sergison Bates". Zurich: Werk, Bauen + Wohnen, May 2005
Sergison J, Bates S: Papers. London: Sergison Bates Architects, 2001.