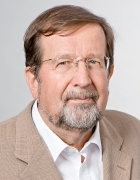 Academic Career and Research Areas
Microbial metabolic products form the subject matter of Prof. Bauer's (b. 1948) research activities. His work focuses on detecting mycotoxins in food and understanding their impact on human and animal health. His particular area of interest is the occurrence and transmission of antibiotic-resistant bacteria.
Following his studies in veterinary medicine, Prof. Bauer received his doctorate in 1976. He qualified as a lecturer in medical microbiology, infectious and epidemic diseases in 1987 at the Faculty of Veterinary Medicine of Munich's Ludwig Maximilian University (LMU). In 1990, he was appointed to the Chair of Animal Hygiene at TUM in Freising-Weihenstephan. Since November 2008, Prof. Bauer has been director of the recently established Hans Eisenmann Center for Agricultural Science, a central institute of TUM. He is a member of the German Association for Veterinary Medicine (DVG) and the Society for Mycotoxin Research. Prof. Bauer is an honorary doctor of the University of Kaposvár, Hungary.
Key Publications
Schwaiger K, Hölzel C, Bauer J: "Resistance gene patterns of tetracycline Escherichia coli of human and porcine origin". Vet. Microbiol. 2010; 142 (3-4) : 329-336.
Abstract
Vogel K, Blümer N, Korthals M, Mittelstädt J, Garn H, Ege M, von Mutius E, Gatermann S, Bufe A, Goldmann T, Schwaiger K, Renz H, Brandau S, Bauer J, Heine H, Holst O: "Animal shed Bacillus licheniformis spores possess allergy-protective as well as inflammatory properties". J Allergy Clin Immunol. 2008; 122: 307-312.
Abstract
Gottschalk C, Bauer J, Meyer K: "Detection of satratoxin G and H in indoor air from a water-damaged building". Mycopathologia. 2008; 166: 103-107.
Abstract
Bauer J, Gareis M, Bott A, Gedek B: "Isolation of a mycotoxin (gliotoxin) from a bovine udder infected with Aspergillus fumigatus". J. Med. Vet. Mycol. 1989; 27: 45-50.
Abstract
Bauer J, Gareis M: "Ochratoxin A in der Nahrungsmittelkette". Zentralbl. Veterinärmed. 1987; B 34: 613-627.
Abstract