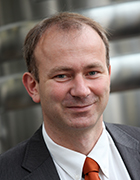 Prof. Dr.-Ing. Thomas Becker
Academic Career and Research Areas
The objective of Prof. Becker's Chair of Brewing and Beverage Technology is to use science to meet current challenges in the food production industry. The focus here lies on plant raw goods and their materials and biotechnological processing. The main focus is on beverages and beer, although the work is methodical in nature and therefore not specific to any one end product. Cereals/baked goods, artificial tissues and other food systems are included in the research.
After studying food technology and biotechnology at TUM, Prof. Becker spent several years working in the industry. He achieved his doctorate at the Chair of General Chemistry and Biochemistry at TUM (1995). In 2002, he qualified as a lecturer in fluid mechanics and process automation, also at TUM. After taking up the Chair of Process Analytics and Grain Technology at the University of Hohenheim, he returned to TUM where he has held the Chair of Brewing and Beverage Technology since 2009.
Hussein M A, Becker T: "An innovative micro-modelling of simultaneous heat and moisture transfer during baking using the lattice boltzmann method". Food Biophysics. 2010; 5: 161-176.
Abstract
Hussein M A, Becker T: "Numerical modeling of shear and normal stress of micro-porous ceramics for stimulated in-vitro cultivation of bone cells". Microfluidics and Nanofluidics.2010; 8: 665-675.
Abstract
Becker T, Hitzmann B, Muffler K, Pörtner R, Reardon R, Ulber R: "Future Aspects of Bioprocess Monitoring- White Biotechnology". Advances in Biochemical Engineering. 2007; 105: 243-293.
Abstract
Fellner M, Delgado A, Becker T: "Functional neurons in dynamic neural networks for bioprocess modeling". Bioprocess and Biosystems Engineering. 2003; 25: 263-270.
Murnleitner E, Becker T, Delgado A: "State Detection and Control of Overloads in the Anaerobic Wastewater Treatment using Fuzzy Logic". Water Research. 2002; 36: 201-211.
Abstract