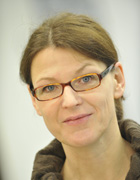 Academic Career and Research Areas
Prof. Behrends (*1963) researches infection immunology and immunotherapy. Her translational work is focusing on inflammatory, autoimmune, and malignant diseases associated with the Epstein-Barr virus (EBV), with her core projects aiming at the development of novel approaches to diagnosis, therapy, and prevention, including adoptive T-cell transfer and vaccine development. These projects are being funded by the German Center for Infection Research (DZIF).
Her studies of human medicine at the universities of Göttingen, Lübeck, München, Glasgow, and New Orleans were followed by scientific education at the Helmholtz Center Munich (HMGU) and by clinical training as pediatrician and pediatric hematooncologist at the children's hospital of TUM. Since 2001, Prof. Behrends has headed a research group at both sites. In 2010, she was appointed to a professorship for pediatric infectiology and immunobiology at TUM.
Cirac A, Stützle S, Dieckmeyer M, Adhikary D, Moosmann A, Körber N, Bauer T, Witter K, Delecluse HJ, Behrends U, Mautner J: "Epstein-Barr virus strain heterogeneity impairs human T-cell immunity". Cancer Immunol Immunother. 2018 Apr;67(4):663-674.
Abstract
Linnerbauer S, Behrends U, Adhikary D, Witter K, Bornkamm GW, Mautner J: "Virus and autoantigen-specific CD4+ T cells are key effectors in a SCID mouse model of EBV-associated post-transplant lymphoproliferative disorders". PLoS Pathog. 2014 May 22;10(5):e1004068.
Abstract
Adhikary D, Behrends U, Feederle R, Delecluse HJ, Mautner J: "Standardized and highly efficient expansion of Epstein-Barr virus-specific CD4+ T cells by using virus-like particles". J Virol. 2008; 82(8): 3903-11.
Abstract
Milosevic S, Behrends U, Adhikary D, Mautner J: "Identification of major histocompatibility complex class II-restricted antigens and epitopes of the Epstein-Barr virus by a novel bacterial expression cloning approach". J Virol. 2006; 80(21): 10357-64.
Abstract
Adhikary D, Behrends U, Moosmann A, Witter K, Bornkamm GW, Mautner J: "Control of Epstein-Barr virus infection in vitro by T helper cells specific for virion glycoproteins". J Exp Med. 2006; 203(4): 995-1006.
Abstract