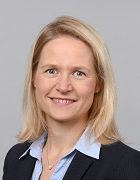 Prof. Dr. Sonja Berensmeier
Academic Career and Research Areas
Prof. Berensmeier (*1976) is working in the field of new biofunctional materials and process development for the separation of biotechnologically produced low and high molecular weight biomolecules. Her focus is on magnetic and conductive materials as well as process simulation. Her strengths lie in the interdisciplinary interaction of material interfaces, biotechnology, and process engineering.
Prof. Berensmeier studied Biotechnology and Biology at the TU Braunschweig and received her doctorate at the Institute of Technical Chemistry in Braunschweig, Germany. From 2004 to 2009, she headed the Biofunctional Surfaces group at the Karlsruhe Institute of Technology and was one of the youngest professors at the Mannheim University of Applied Sciences in the field of Enzyme Technology in 2008. At the end of 2009, Prof. Berensmeier was recruited for the professorship for Bioseparation Engineering at the TUM. She gained international experience at Iowa State University, USA and ETH Zurich.
Schwaminger SP, Blank-Shim SA, Scheifele I, Pipich V, Fraga García P, Berensmeier S: "Design of interactions between nanomaterials and proteins: A highly affine peptide tag to bare iron oxide nanoparticles for magnetic protein separation". Biotechnology Journal. 2018; in press.
Abstract
Blank-Shim SA, Schwaminger SP, Borkowska-Panek M, Anand P, Fraga García P, Fink K, Wenzel W, Berensmeier S: "Binding patterns of homo-peptides on bare magnetic nanoparticles: Insights into environmental dependence". Scientific Reports. 2017; 7: 14047.
Abstract
Brammen M, Fraga García P, Berensmeier S: "Carbon nanotubes-A resin for electrochemically modulated liquid chromatography". Journal of Separation Sciences. 2017; 40(5): 1176-1183.
Abstract
Schwaminger SP, García PF, Merck GK, Bodensteiner FA, Heissler S, Günther S, Berensmeier S: "Nature of Interactions of Amino Acids with Bare Magnetite Nanoparticles". Journal of Physical Chemistry C. 2015; 119(40): 23032-23041.
Abstract
Fraga García P, Freiherr von Roman M, Reinlein S, Wolf M, Berensmeier S: "Impact of nanoparticle aggregation on protein recovery through a pentadentate chelate ligand on magnetic carriers". ACS Applied Materials & Interfaces. 2014; 6(16): 13607-13616.
Abstract