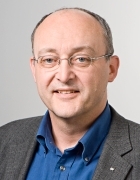 Prof. Dr.-Ing. Kai-Uwe Bletzinger
Academic Career and Research Areas
Prof. Bletzinger (b. 1958) works in the field of Computational Mechanics for the static-dynamic analysis, simulation and optimization and their integration into the digital design chain. He develops methods for the numerical analysis of the interactions of mechanical components and structures with the design (CAD-FEM coupling by the isogeometric method, IGA), the load (fluid-structure interaction, FSI, numerical wind tunnel, computational wind engineering, CWE) as well as the structural geometry (shape optimization). In the special field of form finding and shape optimization Prof. Bletzinger and his group are international leading. Methods developed at the chair are part of modern, computer-oriented engineering processes. In addition to civil engineering and architecture, they are also used in automotive, mechanical and aerospace engineering.
Prof. Bletzinger studied civil engineering in Stuttgart and Calgary (Canada), and acquired his doctorate in 1990 in Stuttgart. In 1996, he was appointed to a professorship at the University of Karlsruhe, before he joined the faculty of TUM in 1999. He is a member of many committees of basic and applied research, of European standardization, of the German Research Foundation and of the board of examiners of the Bavarian Construction Authority for the recognition of test engineers.
Breitenberger M, Apostolatos A, Philipp B, Wüchner R, Bletzinger KU: "Analysis in computer aided design: Nonlinear isogeometric B-Rep analysis of shell structures". Computer Methods in Applied Mechanics and Engineering. 2015; 284: 401-457.
Abstract
Bazilevs Y, Hsu MC, Kiendl J, Wüchner R, Bletzinger KU: "3D simulation of wind turbine rotors at full scale. Part II: Fluid-structure interaction modeling with composite blades". International Journal for Numerical Methods in Fluids. 2011; 65: 236-253.
Abstract
Kiendl J, Bletzinger KU, Linhard J, Wüchner R: "Isogeometric shell analysis with Kirchhoff-Love elements". Computer Methods in Applied Mechanics and Engineering. 2009; 198: 3902-3914.
Abstract
Bletzinger KU, Wüchner R, Daoud F, Camprubí N.: "Computational methods for form finding and optimization of shells and membranes". Computer Methods in Applied Mechanics and Engineering. 2005; 194: 3438-3452.
Abstract
Bletzinger KU, Bischoff M, Ramm E: "A unified approach for shear-locking-free triangular and rectangular shell finite elements". Computers & Structures. 2000; 75: 321-334.
Abstract