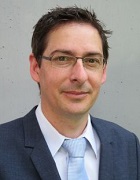 Prof. Dr. Bastian Blombach
Academic Career and Research Areas
Professor Blombach's research focuses on the development and optimization of microbial production processes for chemicals and fuels from renewable raw materials. He uses methods of metabolic engineering, synthetic biology and systems biology to exploit the potential of established and novel microbial systems for industrial biotechnology and methods of genetic engineering in combination with metabolome analysis to construct tailor-made cell factories. The development of a quantitative and systemic understanding of the metabolism of the microbial platforms forms the essential basis of his work.
Professor Blombach (1977) studied biotechnology at the University of Applied Sciences Weihenstephan and received his doctorate in 2009 from the Institute of Microbiology and Biotechnology at the University of Ulm. Beginning in 2012, he was junior research group leader at the Institute of Biochemical Engineering at the University of Stuttgart. Prof. Blombach has headed the Professorship for Microbial Biotechnology at TUM Campus Straubing for Biotechnology and Sustainability since October 2018.
Schwentner A, Feith A, Münch E, Busche T, Rückert C, Kalinowski J, Takors R, Blombach B: "Metabolic engineering to guide evolution – creating a novel mode for L-valine production with Corynebacterium glutamicum". Metabolic Engineering. 2018; 47: 31-41.
Abstract
Lange J, Müller F, Bernecker K, Dahmen N, Takors R, Blombach B: "Valorization of pyrolysis water - a biorefinery side stream - for 1,2-propanediol production with engineered Corynebacterium glutamicum." Biotechnology for Biofuels. 2017; 10: 277.
Abstract
Hoffart E, Grenz S, Lange J, Nitschel R, Müller F, Schwentner A, Feith A, Lenfers-Lücker M, Takors R, Blombach B: "High substrate uptake rates empower Vibrio natriegens as production host for industrial biotechnology." Applied and Environmental Microbiology. 2017; 83: e01614-17.
Abstract
Buchholz J, Schwentner A, Brunnenkan B, Gabris C, Grimm S, Gerstmeir R, Takors R, Eikmanns BJ, Blombach B: "Platform Engineering of Corynebacterium glutamicum with reduced pyruvate dehydrogenase complex activity for improved production of L-lysine, L-valine, and 2-ketoisovalerate". Applied and Environmental Microbiology. 2013; 79(18): 5566-5575.
Abstract
Blombach B, Riester T, Wieschalka S, Ziert C, Youn JW, Wendisch VF, Eikmanns BJ: "Corynebacterium glutamicum tailored for efficient isobutanol production". Applied and Environmental Microbiology. 2011; 77(10): 3300–3310.
Abstract