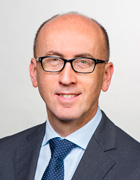 Prof. Dr. Carlo L. Bottasso
Academic Career and Research Areas
Prof. Bottasso holds the Chair of Wind Energy at the Technical University of Munich (TUM), where he is also the founding director of the Wind Energy Institute. Prof. Bottasso received a Ph.D. in Aerospace Engineering from Politecnico di Milano in Italy, where he started his academic career, raising to the rank of full professor of flight mechanics before moving to TUM in 2013. He was Associate Professor of Aerospace Engineering at the Georgia Institute of Technology (USA), and he held visiting positions in the USA (including NREL, Lawrence Livermore National Laboratory, NASA Langley, Georgia Tech) and Denmark, and taught short courses at several locations in Europe, Asia and the USA.
Prof. Bottasso has over 30 years of experience in research, teaching and consulting in the fields of flight technologies and wind energy. Among his professional activities, he has been the President and Vice-President of the European Academy of Wind Energy (EAWE), he is the Editor in Chief of the Wind Energy Science journal, and he served on several academic and industrial executive committees. Prof. Bottasso has published more than 500 papers, including about 150 journal papers, and given over 30 plenary and invited keynote addresses at international conferences. In 2023, he was honored with the EAWE Scientific Award for "his outstanding contributions and pioneering role in the research on modeling and simulation, aero-servo-elasticity, control and design of wind turbine technologies".
Key Publications
Veers P, Dykes K, Lantz E, Barth S, Bottasso CL, Carlson O, Clifton A, et al. "Grand challenges in the science of wind energy". Science. 2019; 366 (6464), eaau2027.
Abstract
van Kuik G, et al. "Long-term research challenges in wind energy – A research agenda by the European Academy of Wind Energy". Wind Energy Science. 2016; 1(1):1-39.
Abstract
Bottasso CL, Campagnolo F, Petrović V. "Wind tunnel testing of scaled wind turbine models: Beyond aerodynamics". Journal of Wind Engineering and Industrial Aerodynamics. 2014; 127:11-28.
Abstract
Bottasso CL, Campagnolo F, Croce A. "Multi-disciplinary constraint optimization of wind turbines". Multibody System Dynamics. 2012; 27 (1):21-53.
Abstract
Bottasso CL, Detomi D, Serra R. "The ball-vertex method: a new simple spring analogy method for unstructured dynamic meshes". Computer Methods in Applied Mechanics and Engineering. 2005; 194 (39-41):4244-4264.<o:p></o:p>
Abstract