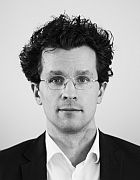 Prof. Dr. Benedikt Boucsein
Academic Career and Research Areas
Professor Boucsein (b. 1979) conducts research into the conversion of everyday post-war city districts, negotiation processes surrounding large urban infrastructures, projects pioneering radical change towards sustainable urban living, and the production conditions of architecture and urban development. The main focus of his work is on the European Megalopolis.
Benedikt Boucsein studied architecture at the RWTH Aachen and the ETH Zurich from 1999 to 2005 and received his doctorate from 2005 to 2008 at the Institute for History and Theory of Architecture of the ETH under Andreas Tönnesmann on the "Grey Architecture" of the post-war period. From 2007 to 2017 he researched and taught at the ETH Zurich for Felix Claus and Kees Christiaanse. In 2007 he founded BHSF Architects in Zurich with Axel Humpert and Tim Seidel (since 2020 also in Munich). Together with them and Jeanette Beck he edited the magazine Camenzind from 2005-2018. In 2018 he was appointed to the professorship for Urban Design at the TUM.
He is a member of the German Academy for Urban and Regional Planning, an architect and urban planner in the Bavarian Chamber of Architects and a regular jury member in architectural and urban planning competitions.
Benedikt Boucsein: Städtebau und Klimawandel. Informationen zur Raumentwicklung (4/2021), 2021, 62-67.
Abstract
Boucsein B, Christiaanse K, Kasioumi E, Salewski C: "The Noise Landscape. A Spatial Exploration of Airports and Cities". Rotterdam: nai010 publishers, 2017.
Abstract
Boucsein B, Kasioumi E, Fettahoglu-Özgen E: "The front side-backyard-multiplicity". archimaera. 2021; Nr. 9.
Abstract
Boucsein B: "The Need for Compromise, and Other Lessons from West Germany's Grey Architecture". Dialectic – The Journal of the School of Architecture. 2017.
Abstract