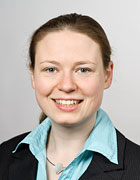 Academic Career and Research Areas
Nicola Breugst (b. 1983) focuses on the people side of entrepreneurship and analyzes the role of cognition, motivation and emotion in the entrepreneurial process. She also investigates the social and economic background of company founders. For example, she studies how the entrepreneurial team influences the company founders, how entrepreneurs inspire their employees, or how they deal with uncertainty in their industry sector. Her work demonstrates that rather than being lonesome heroes entrepreneurs interact closely with one another and with their environment.
Breugst studied psychology at LMU Munich. She completed her PhD in entrepreneurship at FSU Jena in 2011. Since 2012 she has been professor of Entrepreneurial Behavior at TUM. Breugst has worked at the University of Duisburg-Essen (Germany), the Max Planck Institute of Economics in Jena (Germany), the Kelley School of Business at Indiana University (USA) and the NUS Business School of the National University of Singapore.
Awards
Excellence in Reviewing Award from Journal of Business Venturing (2013)
2012 National Federation of Independent Business (NFIB) Doctoral Dissertation Award
Finalist for the TUM Research Excellence Award in Innovation and Leadership 2012 of the Peter Pribilla Foundation
Best Paper Award for a Junior Researcher at the RENT XXII – Research in Entrepreneurship and Small Business Conference, Covilha, Portugal (2008)
Doctoral Student Scholarship awarded by the Max Planck Society (2008-2010)
Breugst N, Shepherd DA: "If you fight with me, I'll get mad! A social model of entrepreneurial affect". Entrepreneurship Theory and Practice. 2015.
Abstract
Breugst N, Patzelt H, Rathgeber P: "How should we divide the pie? Equity distribution and its impact on entrepreneurial teams". Journal of Business Venturing. 2015; 30(1): 66-94.
Abstract
Breugst N, Domurath A, Patzelt H, Klaukien A: "Perceptions of entrepreneurial passion and employees' commitment to entrepreneurial ventures". Entrepreneurship Theory and Practice. 2012; 36(1): 171–192.
Abstract
Breugst N, Patzelt H, Shepherd DA, Aguinis H: "Relationship conflict improves team performance assessment accuracy: Evidence from a multilevel study." Academy of Management Learning and Education. 2012; 11(2): 187 - 206.
Abstract
Laspita S, Breugst N, Heblich S, Patzelt H: "Intergenerational transmission of entrepreneurial intentions". Journal of Business Venturing. 2012; 27(4): 414-435.
Abstract