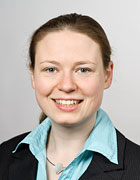 Academic Career and Research Areas
Nicola Breugst focuses on the people side of entrepreneurship and analyzes the role of cognition, motivation and emotion in the entrepreneurial process. She also investigates the social and economic background of company founders. For example, she studies how the entrepreneurial team influences the founders, how entrepreneurs inspire their employees, or how they deal with uncertainty in their environment. Her work demonstrates that rather than being lonesome heroes entrepreneurs interact closely with one another and with their environment.
Nicola Breugst studied psychology at Ludwig-Maximilians-University Munich and completed her PhD in entrepreneurship at the Friedrich-Schiller-University Jena. She has worked as a professor of Entrepreneurial Behavior at TUM since 2012. In her academic career, Nicola Breugst worked at the University of Duisburg-Essen (Germany), the Max Planck Institute of Economics in Jena (Germany), the Kelley School of Business at Indiana University (USA) and the NUS Business School of the National University of Singapore.
Awards
Best Teaching Award of TUM School of Management (2022)
Best Paper in Entrepreneurial Cognition of the Managerial and Organizational Cognition Division of Academy of Management (2020)
TUM School of Management Supervisory Award (2018)
Excellence in Reviewing Award from Journal of Business Venturing (2013)
2012 National Federation of Independent Business (NFIB) Doctoral Dissertation Award

Tacke, Friedrich; Knockaert, Mirjam; Patzelt, Holger; Breugst, Nicola: When do greedy entrepreneurs exhibit unethical pro-organizational behavior? The role of new venture team trust. Journal of Management 49 (3), 2023, 974–1004.
Abstract
El-Awad, Ziad; Brattström, Anna; Breugst, Nicola: Bridging cognitive scripts in multidisciplinary academic spinoff teams: A process perspective on how academics learn to work with non-academic managers. Research Policy 51 (10), 2022.
Abstract
Breugst N, Domurath A, Patzelt H, Klaukien A: "Perceptions of entrepreneurial passion and employees' commitment to entrepreneurial ventures". Entrepreneurship Theory and Practice. 2012; 36(1): 171–192.
Abstract
Breugst, N., Shepherd, D. A.: If you fight with me, I'll get mad! A social model of entrepreneurial affect. Entrepreneurship Theory and Practice 41 (3), 2017, 379-418.
Abstract
Breugst, N.; Patzelt, H.; Rathgeber, P.: How should we divide the pie? Equity distribution and its impact on entrepreneurial teams. Journal of Business Venturing 30 (1), 2015.
Abstract