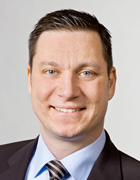 Academic Career and Research Areas
Professor Brück's (b. 1972) research focuses on sustainable production of specialty and platform chemicals from biomass residues. Core competencies are microbial cultivation, design of artifical metabolic pathways, synthetic- and systems biology as well as bioprocess development using E. coli, yeast and microalgae production platforms. Professor Brück manages the globally unique TUM-AlgaeTec Center that enables algae cultivation using sophiticated climate simulations.
Professor Brück studied Chemistry, Biochemistry and Molecular Medicine at Keele University, UK, conducted his PhD studies in Biochemistry at Imperial College and the University of Greenwich. His academic career branched out to marine natural product biochemistry at the Centre of Excellence for Biomedical and Marine Biotechnology at Florida Atlantic University (Boca Raton, USA). In 2006, Professor Brück joined Süd-Chemie AG, where he held various research and high level managerial positions. Since 2011, he is Professor in the field of synthetic biotechnology and sustainability at the TUM.
Marion Ringel, Markus Reinbold, Max Hirte, Martina Haack, Claudia Huber, Wolfgang Eisenreich, Mahmoud A. Masri, Gerhard Schenk, Luke W. Guddat, Bernhard Loll, Russell Kerr, Daniel Garbe und Thomas Brück: "Towards a sustainable generation of pseudopterosin-type bioactives". Green Chemistry. July 20, 2020; DOI: 10.1039/D0GC01697G.
Abstract
Brück T: "Towards a comprehensive understanding of the structural dynamics of a bacterial diterpene synthase during catalysis". Nature Communications. 2018; 9: 3971.
Abstract
Brück T: "From microbial upcycling to biology-oriented synthesis: combining whole-cell production and chemo-enzymatic functionalization for sustainable taxanoid delivery". Green Chem. 2018; 20: 5374-5384.
Abstract
Brück T: "Modular biomanufacturing for a sustainable production of terpenoid-based insect deterrents". Green Chem. 2018; 20: 2637-2650.
Abstract
Brück T: "A waste-free, microbial oil centered cyclic bio-refinery approach based on flexible macroalgae biomass". Applied Energy. 2018; 224: 1-12.
Abstract