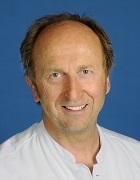 Academic Career and Research Areas
The research interests of Professor Burdach (b. 1952) focus on the development and optimization of therapies in the treatment of oncological disease in children and young people. Findings from cell biology are used to develop individualized therapies.
Following research posts at Harvard University, Stanford University and in Seattle working with Nobel laureate Don Thomas, Burdach acquired his postdoctoral teaching qualification (habilitation) in 1989 in Düsseldorf. Before being offered an appointment at TUM he was director of the University Hospital and Department of Outpatient Care and Pediatrics of Halle University (Martin-Luther-Universität Halle-Wittenberg). Since 2003 he has been the director of the Department of Outpatient Care and Pediatrics at Klinikum rechts der Isar and head physician of the Children's Clinic at Schwabing Hospital in Munich. Professor Burdach is a member of the editorial boards and a consultant of several journals (including the International Journal of Pediatrics, Blood, Bone Marrow Transplantation) and a consultant for the German Research Foundation (DFG), Helmholtz Association, German Cancer Aid, Wilhelm Sander Foundation, José Carreras Leukemia Foundation and the German Childhood Cancer Foundation. He holds intellectual property rights in the field of gene chip technology.
Key Publications
Whelan J, Le Deley MC, Dirksen U, Le Teuff G, Brennan B, Gaspar N, Hawkins DS, Amler S, Bauer S, Bielack S, Blay JY, Burdach S, Castex MP, Dilloo D, Eggert A, Gelderblom H, Gentet JC, Hartmann W, Hassenpflug WA, Hjorth L, Jimenez M, Klingebiel T, Kontny U, Kruseova J, Ladenstein R, Laurence V, Lervat C, Marec-Berard P, Marreaud S, Michon J, Morland B, Paulussen M, Ranft A, Reichardt P, van den Berg H, Wheatley K, Judson I, Lewis I, Craft A, Juergens H, Oberlin O; Euro-E.W.I.N.G.99 and EWING-2008 Investigators: "High-Dose Chemotherapy and Blood Autologous Stem-Cell Rescue Compared With Standard Chemotherapy in Localized High-Risk Ewing Sarcoma: Results of Euro-E.W.I.N.G.99 and Ewing-2008". Journal of Clinical Oncology. 2018; 36(31): 3110-3119.
Abstract
Gröbner SN, Worst BC, Weischenfeldt J, Buchhalter I, Kleinheinz K, Rudneva VA, Johann PD, Balasubramanian GP, Segura-Wang M, Brabetz S, Bender S, Hutter B, Sturm D, Pfaff E, Hübschmann D, Zipprich G, Heinold M, Eils J, Lawerenz C, Erkek S, Lambo S, Waszak S, Blattmann C, Borkhardt A, Kuhlen M, Eggert A, Fulda S, Gessler M, Wegert J, Kappler R, Baumhoer D, Burdach S, Kirschner-Schwabe R, Kontny U, Kulozik AE, Lohmann D, Hettmer S, Eckert C, Bielack S, Nathrath M, Niemeyer C, Richter GH, Schulte J, Siebert R, Westermann F, Molenaar JJ, Vassal G, Witt H; ICGC PedBrain-Seq Project; ICGC MMML-Seq Project, Burkhardt B, Kratz CP, Witt O, van Tilburg CM, Kramm CM, Fleischhack G, Dirksen U, Rutkowski S, Frühwald M, von Hoff K, Wolf S, Klingebiel T, Koscielniak E, Landgraf P, Koster J, Resnick AC, Zhang J, Liu Y, Zhou X, Waanders AJ, Zwijnenburg DA, Raman P, Brors B, Weber UD, Northcott PA, Pajtler KW, Kool M, Piro RM, Korbel JO, Schlesner M, Eils R, Jones DTW, Lichter P, Chavez L, Zapatka M, Pfister SM: "The landscape of genomic alterations across childhood cancers". Nature. 2018; 555(7696): 321-327.
Abstract
Richter GH, Plehm S, Fasan A, Rössler S, Unland R, Bennani-Baiti IM, Hotfilder M, Löwel D, von Luettichau I, Mossbrugger I, Quintanilla-Martinez L, Kovar H, Staege MS, Müller-Tidow C, Burdach S: "EZH2 is a mediator of EWS/FLI1 driven tumor growth and metastasis blocking endothelial and neuro-ectodermal differentiation". Proceedings of the National Academy of Sciences. 2009; 106(13): 5324-5329.
Abstract
von Freeden-Jeffry U, Vieira P, Lucian LA, McNeil T, Burdach SE, Murray R: "Lymphopenia in interleukin (IL)-7 gene-deleted mice identifies IL-7 as a nonredundant cytokine". Journal of Experimental Medicine. 1995; 181(4): 1519-1526.
Abstract
Burdach S, Jürgens H, Peters C, Nürnberger W, Mauz-Körholz C, Körholz D, Paulussen M, Pape H, Dilloo D, Koscielniak E, et al.: "Myeloablative radiochemotherapy and hematopoietic stem-cell rescue in poor-prognosis Ewing's sarcoma". Journal of Clinical Oncology. 1993; 11(8): 1482-1488.
Abstract