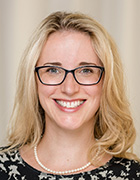 Academic Career and Research Areas
Professor Buyx' research spans the whole field of biomedical ethics, with a particular focus on ethics of medical innovation and health technologies, research ethics, questions of solidarity and justice in contexts such as public health and health care provision, and novel participatory approaches in biomedicine and beyond. She has expertise in theoretical ethical analysis as well as in empirical, mixed-methods studies and policy development. She is keen on pursuing an interdisciplinary, embedded-ethics approach and collaborates regularly with clinical colleagues as well as with colleagues from many other disciplines. Professor Buyx sits on a number of high-level national and international ethics bodies concerned with policy development and implementation, and consults for various international research consortia and policy initiatives. She has been a member of the German Ethics Council since 2016 and has been chairwoman of the body since 2020. She was a member (2019-2021) of the WHO Expert Advisory Committee on Developing Global Standards for Governance and Oversight of Human Genome Editing.
Professor Buyx is committed to communicating with the public and lectures widely. She is a medical doctor with postgraduate degrees in philosophy and sociology. She has previously held appointments at the University of Kiel, University of Münster; Harvard University, and University College London; and she was Assistant Director of the Nuffield Council on Bioethics, London.
Awards
Bavarian Medal of Merit (2023)
Heinz Maier Leibnitz Medal of the Technical University of Munich (2021)
German National Award (2021)
Member of acatech - German Academy of Science and Engineering (2021)
Member of the National Academy of Science Leopoldina (2020)
Key Publications
McLennan S, Fiske A, Haddadin S, Harder J, Buyx A: "Embedded ethics: A proposal for integrating ethics into the development of healthcare AI". Nature Machine Intelligence. 2020.
Abstract
Fiske A, Henningsen P, Buyx A: "Your robot therapist will see you now: Ethical implications of embodied artificial intelligence in psychiatry, psychology, and psychotherapy". Journal of Medical Internet Research. 2019; 21(5):e13216.
Abstract
Richter G, Krawczak M, Lieb W, Wolff L, Schreiber S, Buyx A: "Broad consent for healthcare embedded biobanking: understanding and reasons to donate in a large patient sample". Genetics in Medicine. 2018; 20 (1):76–82.
Abstract
Prainsack B, Buyx A: "Solidarity in biomedicine and beyond". Cambridge University Press. 2017.
Abstract
West-Oram P, Buyx A: "Global Health Solidarity". Public Health Ethics. 2017; 10(12):212–224.
Abstract