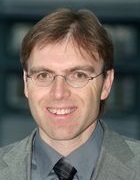 Prof. Dr.-Ing. Georg Carle
Academic Career and Research Areas
Prof. Carle conducts research in the field of Internet technology, with a focus on future internet, network security, sensor networks, real-time communication and autonomous networks.
Prof. Carle (b. 1965) studied electrical engineering at the University of Stuttgart (Diplom 1992). He spent periods abroad at the Ecole Nationale Supérieure des Télécommunications in Paris and Brunel University in London, where he acquired a Master of Science in digital systems. In 1996, he completed his doctorate at the University of Karlsruhe's Institute of Telematics. He was supported by a scholarship from the research training group on manageability of complex systems. In 1997, he received an EU scholarship for a postdoctoral position at Institut Eurécom at Sophia Antipolis, France. At the Fraunhofer Institute for Open Communication Systems (FOKUS) in Berlin, he headed the competence center 'Global Networking'. In December 2002, he was appointed to the University of Tübingen's newly-created Chair of Computer Networks and Internet. He joined the professorial faculty at TUM in April 2008.
Awards
Internet Research Task Force IRTF Applied Networking Research Prize ANRP (2018)
Best Paper Award, Passive and Active Measurement Conference (2018)
ACM SIGCOMM Internet Measurement Conference Community Contribution Award (2017)
Internet Research Task Force IRTF Applied Networking Research Prize ANRP (2017)
Best Paper Award IEEE ComSoc Internet Technical Committee (2017)
Wohlfart F, Chatzis N, Dabanoglu C, Carle G, Willinger W: "Leveraging interconnections for performance: the serving infrastructure of a large CDN". SIGCOMM '18 Proceedings of the 2018 Conference of the ACM Special Interest Group on Data Communication. Budapest, Hungary. 20-25 August 2018: 206-220.
Abstract
Amann J, Gasser O, Scheitle Q, Brent L, Carle G, Holz R: "Mission Accomplished? HTTPS Security after DigiNotar". IMC '17 Proceedings of the 2017 Internet Measurement Conference. London, UK. 01-03 November 2017: 325-340.
Abstract
Emmerich E, Gallenmüller S, Raumer D, Wohlfart F, Carle G: "MoonGen: A Scriptable High-Speed Packet Generator". IMC '15 Proceedings of the 2015 Internet Measurement Conference. Tokyo, Japan. 28-30 October 2015: 275-287.
Abstract
Kothmayr T, Schmitt C, Hu W, Brünig M, Carle G: "DTLS based security and two-way authentication for the Internet of Things". Ad Hoc Networks. 2013; 11(8): 2710-2723.
Abstract
Braun L, Didebulidze A, Kammenhuber N, Carle G: "Comparing and Improving Current Packet Capturing Solutions based on Commodity Hardware". IMC '10 Proceedings of the 10th ACM SIGCOMM conference on Internet measurement. Melbourne, Australia. 01-03 November 2010: 206-217.
Abstract