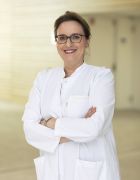 Prof. Dr. Stephanie E. Combs
Academic Career and Research Areas
Professor Combs (*1976) is a leading expert in the field of radiation oncology and radiation therapy. Her key expertise is highly conformal radiation therapy (stereotactic treatment, IMRT/IGRT/ART, protons and carbon ions). Her scientific work includes areas including treatment optimization for brain and skull base tumors, biomarkers in radiation oncology, pediatric oncology, gastrointestinal oncology, uro-oncology, gynecological oncology, radiochemotherapy and radioimmunotherapy.
Prof. Combs studied medicine in Heidelberg, and in Norfolk and San Antonio, USA. After her graduation and promotion 2003, she worked as research associate in Heidelberg. Following her postdoctoral lecture qualification 2009, she was promoted in 2011 to vice chair of the radiation oncology department in Heidelberg. 2014, Prof. Combs was appointed professor and chair of the TUM department of radiation oncology. In 2015, she also took over the institute of radiation medicine of the Helmholtz Zentrum. From 2019 to 2022, Prof. Combs headed the TUM senate. In October 2022, Prof. Combs was elected as Dean of the TUM Faculty of Medicine.
Awards
Basic/Translational Senior Science of the American Society of Radiation Oncology (2019)
Robert Janker Award for Palliative Medicine (2012)
Award of the Behnken-Berger-Foundation Berlin (2010)
Herrmann Holthusen Award of the German Society of Radiation Oncology (DEGRO) (2010)
Sigrid and Karl-Georg Hengstenberger Award of the University of Heidelberg (2006)
Eitz, K.A.; Lo, S.S.; Soliman, H.; Sahgal, A.; Theriault, A.; Pinkham, M.B.; Foote, M.C.; Song, A.J.; Shi, W.: "Redmond, K.J., et al. Multi-institutional Analysis of Prognostic Factors and Outcomes After Hypofractionated Stereotactic Radiotherapy to the Resection Cavity in Patients With Brain Metastases". JAMA Oncol. 2020; 10.1001/jamaoncol.2020.4630.
Abstract
Rusthoven, C.G.; Yamamoto, M.; Bernhardt, D.; Smith, D.E.; Gao, D.; Serizawa, T.; Yomo, S.; Aiyama, H.; Higuchi, Y.; Shuto, T., et al.: "Evaluation of First-line Radiosurgery vs Whole-Brain Radiotherapy for Small Cell Lung Cancer Brain Metastases: The FIRE-SCLC Cohort Study". JAMA Oncol. 2020; 6: 1028-1037.
Abstract
Peeken, J.C.; Molina-Romero, M.; Diehl, C.; Menze, B.H.; Straube, C.; Meyer, B.; Zimmer, C.; Wiestler, B.; Combs, S.E.: "Deep learning derived tumor infiltration maps for personalized target definition in Glioblastoma radiotherapy". Radiotherapy and oncology: journal of the European Society for Therapeutic Radiology and Oncology. 2019; 138: 166-172.
Abstract
Schiller, K.; Sauter, K.; Dewes, S.; Eiber, M.; Maurer, T.; Gschwend, J.; Combs, S.E.; Habl, G.: "Patterns of failure after radical prostatectomy in prostate cancer - implications for radiation therapy planning after (68)Ga-PSMA-PET imaging". European journal of nuclear medicine and molecular imaging. 2017; 44: 1656-1662.
Abstract
Combs, S.E.; Kessel, C.; Wilkens, J.J.; Multhoff, G.; Schmid, T.E.; Vaupel, P.; Trott, K.R.; Berberat, P.; Atkinson, M.J.: "Master of Science (MSc) Program in Radiation Biology: An Interdepartmental Course Bridging the Gap between Radiation-Related Preclinical and Clinical Disciplines to Prepare Next-Generation Medical Scientists". Frontiers in oncology. 2017; 7: 226.
Abstract