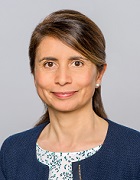 Prof. Dr. Eugénia da Conceição-Heldt
Academic Career and Research Areas
Professor da Conceição-Heldt's research interests include delegation of power to international organizations, European integration, global economic governance, two-level games, negotiation analysis, and accountability in global governance.
Professor da Conceição-Heldt received her PhD in political science from the Freie Universität Berlin and completed her postdoctoral teaching qualification (habilitation) at the Humboldt-Universität zu Berlin. From March 2012 through June 2016, she held the Chair of International Politics at TU Dresden. Previous appointments include fellowships at the Center for European Studies at Harvard University, at the European University Institute in Florence, and at the Berlin Social Science Center (WZB). She is the author of over 20 peer-reviewed journal articles and four monographs and has edited special issues for peer-reviewed journals. Professor da Conceição-Heldt currently holds the Chair of European and Global Governance at the Bavarian School of Public Policy.
Awards
Fulbright Fellowship at the Center for European Studies, Harvard University (2015)
Consolidator Grant (ERC) (2012)
Heisenberg Fellowship, German Research Foundation (DFG) (2010)
Calouste Gulbenkian Fellowship, John Hopkins University, School of Advanced International Studies, Washington D.C. (rejected) (2009)
Jean Monnet Fellowship, European University Institute, Florence (2007-2008)
da Conceição-Heldt E, Koch M, Liese A: Internationale Organisationen: Autonomie, Politisierung, Interorganisationale Beziehungen und Wandel. PVS Sonderheft Band 49. Baden-Baden: Nomos, 2015.
Abstract
da Conceição-Heldt E, Meunier S: "Speaking with a Single Voice: Internal Cohesiveness and External Effectiveness of the EU in Global Governance". Journal of European Public Policy. 2014; 21(7): 961-979.
Abstract
da Conceição-Heldt E: "Do Agents "Run Amok"? Agency Slack in the EU and US Trade Policy in the Doha Round". Journal of Comparative Policy Analysis. 2013; 15(1): 21-36.
Abstract
da Conceição-Heldt E: "Two-Level Games and Trade Cooperation: What Do We Now Know?" International Politics. 2013; 50(4): 579-599.
Abstract
da Conceição-Heldt E: "Who Controls Whom? Dynamics of Power Delegation and Agency Losses in EU Trade Politics". Journal of Common Market Studies. 2010; 48(5): 1107-1126.
Abstract
print view