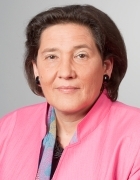 Prof. Dr. Hannelore Daniel
Academic Career and Research Areas
Prof. Daniel (b. 1954) researches the basic principles of nutrient transport in mammals at genetic, structural and functional levels. She also studies the molecular basis of the adaptation of metabolic processes to changes in the intake of nutrients and non-nutritive ingredients of food as well as ageing processes.
Prof. Daniel studied nutritional sciences at Justus Liebig University in Giessen. She received her doctorate in 1982 and qualified as a lecturer in Biochemistry of Human Nutrition in 1989. She has worked at the University of Glasgow and spent three years at the School of Medicine in Pittsburgh. She was appointed a full professor at the University of Giessen in 1992. Since 1998, she has held the Chair of Nutrition Physiology at TUM. Prof. Daniel is a member of the German Academy of Sciences (Leopoldina), various advisory bodies, supervisory boards and associations.
Spanier B, Rubio-Aliaga I, Hu H, Daniel H: "Altered signalling from germline to intestine pushes daf-2;pept-1 Caenorhabditis elegans into extreme longevity". Aging Cell. 2010; 9(4):636-46.
Abstract
Weitz D, Harder D, Casagrande F, Fotiadis D, Obrdlik P, Kelety B, Daniel H: "Functional and structural characterization of a prokaryotic peptide transporter with features similar to mammalian PEPT1". J Biol Chem. 2007; 282(5):2832-9.
Abstract
Rubio-Aliaga I, Daniel H: "Mammalian peptide transporters as targets for drug delivery". Trends Pharmacol Sci. 2002; 23(9):434-40.
Abstract
Boll M, Herget M, Wagener M, Weber WM, Markovich D, Biber J, Clauss W, Murer H, Daniel H: "Expression cloning and functional characterization of the kidney cortex high-affinity proton-coupled peptide transporter". Proc Natl Acad Sci U S A. 1996; 93(1):284-9.
Abstract