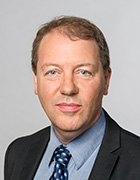 Prof. Dr. Walter Timo de Vries
Academic Career and Research Areas
The research interests of Professor de Vries include smart and responsible land management, urban and rural development, public restrictions cadastres and capacity development for land policy. He supervises doctoral candidates dealing with spatial development strategies, land tenure arrangements, spatial justice, nomadic-pastoralist land tenure and land consolidation amongst others. He is working on a theory and framework for 'Human Geodesy'.
Professor de Vries acquired a geodetic engineering degree from the Technical University of Delft in 1988, and completed his PhD at Rotterdam He has worked in international projects in Asia, Africa and South America, with UNITAR in Geneva until 1994, and with the International Institute for Geo-Information Science and Earth Observation (ITC) at the University of Twente from 1994 till 2015. He was appointed to his chair position at TUM in 2015. He is the director of TUM's Master and PhD programs in Land Management and Land Tenure, serves as Dean of Studies of the programs Geodesy and Geoinformatics and as academic coodinator for TUM.Africa. He is a member of the German Geodetic Commisison and member of the Bayern Academy of Rural Space.
de Vries WT, Voß W: "Economic Versus Social Values in Land and Property Management: Two Sides of the Same Coin? Raumforschung und Raumordnung". Spatial Research and Planning. 2018; 76 (5):381-394.
Abstract
de Vries WT, UE Chigbu: "Responsible land management - Concept and application in a territorial rural context". fub. Flächenmanagement und Bodenordnung. 2017; 79: 65-73.
Abstract
Zevenbergen J, de Vries WT, Bennett RM (Eds.): Advances in Responsible Land Administration. CRC Press, 2015.
Abstract
de Vries WT, Bennett RM, JA Zevenbergen: "Neo-cadastres: innovative solution for land users without state based land rights, or just reflections of institutional isomorphism?" Survey Review. 2014; 47 (342): 220-229.
Abstract
de Vries WT, Lewis J: "Are urban land tenure regulations in Namibia the solution or the problem?". Land use policy. 2009; 26(4): 1116-1127.
Abstract