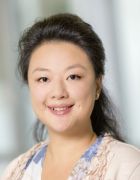 Academic Career and Research Areas
Prof. Deng conducts research in the area of phage biology, virome and microbiome. She uses single-cell technologies, multi-omics, culture-independent techniques, and machine learning to understand the underlying mechanisms of phage-bacterial interactions and their impact on the human host. Her group develops phage-based novel therapeutics and prevention interventions for target eliminating pathogenic bacteria and ameliorating disease severity by restoring healthy microbiota in multiple diseases or conditions.
Prof. Deng studied Environmental Engineering at the Tsinghua University, China (BEng), Environmental Science at the University of Nottingham, UK (MSc) and Microbiology at the University of Bristol, UK (PhD). After her post-doctoral training at the University of Arizona, US, she joined Helmholtz Munich as the head of DFG Emmy Noether Junior group and Helmholtz Young Investigator group. She became chair professor for Prevention of Bacterial Diseases at TUM in 2022, and joint director of the Central Institute of Infection Prevention (ZIP) in 2023.
Awards
Award for excellent women scientists (W2/W3), Helmholtz Association, Germany (2021)
TOP 10 junior scientist of the year, Academics (Die Zeit, research & education), Germany (2019)
ERC starting grant , EU(2018)
Helmholtz Young investigator group by the Helmholtz Association, Germany (since 2016)
Emmy-Noether Junior Group funded by the DFG, German (since 2016)
Thiele Orberg E, Meedt E, Hiergeist A, Xue J, […], Deng L*, Holler E*, Poeck H*, Bacterial and Bacteriophage Consortia are Associated with Protective Intestinal Immuno-modulatory Meta-bolites in Allogeneic Stem Cell Transplantation Patients, Nature Cancer, 2023.
Abstract
Tiamani K, Luo S, Schulz S, Xue J, Costa R, Khan Mirzaei M & Deng L*. The role of virome in the gastrointestinal tract and beyond. FEMS Microbiology Reviews, 2022.
Abstract
Khan Mirzaei M, Deng L*. New technologies for developing phage-based tools to manipulate the human microbiome. Trends in Microbiology. 2021.
Abstract
Dzunkova M, Low SJ, Daly JN, Deng L, RinkeC, Hugenholtz P. Defining the human gut host-phage network through single-cell viral tagging. Nature Microbiology, 2019.
Abstract
Deng L, Ignacio-Espinoza JS, Gregory A, Poulos PT, Weitz JS, Hugenholtz P, Sullivan MB. Viral tagging reveals discrete populations in Synechococcus viral genome sequence space, Nature, 2014.
Abstract