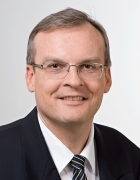 Academic Career and Research Areas
Professor Deppe's (b. 1963) current research seeks to improve the long term outcome of dental implants and find new techniques in the induction of bone tissue, based on work carried out in the interdisciplinary Collaborative Research Centre 438 of DFG, the German Research Foundation (2003). His current research emphasis is on interactions of tooth and systemic disease.
Professor Deppe completed his dentistry studies at LMU Munich. He commenced his training leading to board certification in oral surgery in a dental practice and completed this training at TUM's Clinic and Policlinic for Cranio-Maxillo-Facial Surgery, acquiring his medical board certification in 1993. Since 2004 he has been a professor of dental surgery and implantology at TUM's Klinikum rechts der Isar. Professor Deppe is a member of the scientific advisory board of the German Society for Laser Dentistry (since 2002), a consultant for the medical office of the German Armed Forces and a member of the Audit Committee for Oral Surgery of the Bavarian Regional Dental Chamber. Since 2006 he has been a European specialist for implantology.
Awards
Research prize of the Herd Research Foundation (2008)
Sponsorship Award of the Bavarian Dental Association (2008)
Annual best prize of the journal for dental implantology, DGI (2005)
Key Publications
Deppe H, Hohlweg-Majert B, Holzle F, Kesting MR, Wagenpfeil S, Wolff KD, Schmitt M: "Content of urokinase-type plasminogen activator (Upa) and its inhibitor PAI-1 in oral mucosa and inflamed periodontal tissue". Quintessence International. 2010; 41: 165-171.
Abstract
Deppe H, Auer-Bahrs J, Kolk A, Hall D, Wagenpfeil S: "Need for dental treatment following cardiac valve surgery: a retrospective analysis". J Craniomaxillofac Surg. 2007; 35: 293-301.
Abstract
Deppe H, Horch HH, Neff A: "Conventional versus CO2 laser-assisted treatment of peri-implant defects with the concomitant use of pure-phase beta-tricalcium phosphate: a five-year clinical report". Int J Oral Maxillofac Impl. 2007; 21: 79-86.
Abstract
Deppe H, Stemberger A, Hillemanns M: "Effects of osteopromotive and anti-infective membranes on bone regeneration: an experimental study in rat mandibular defects". Int J Oral Maxillofac Impl. 2003; 18: 369-376.
Abstract
Deppe H, Horch HH, Henke J, Donath K: "Peri-implant care of ailing implants with the carbon dioxide laser". Int J Oral Maxillofac Impl. 2001; 16: 659-667.
Abstract