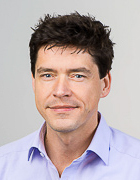 Academic Career and Research Areas
Inspired by the rich functionalities of natural macromolecular assemblies such as enzymes, molecular motors, and viruses, Dietz investigates how to build increasingly complex molecular structures. The goal is to build molecular devices and machines that can execute user-defined tasks. Molecular self-assembly with DNA is one of the main routes currently pursued toward achieving this goal. DNA origami in particular enables building nanodevices that can already be employed for making new discoveries in biomolecular physics and protein science. In the long term Professor Dietz hopes to make a significant contribution to the creation of a molecular machines and systems with practical benefits for everyday life. This includes uses in medicine – for diagnosis and therapy – and synthetic enzymes for biologically inspired chemistry.
Prof. Dietz studied physics in Paderborn, Saragossa (Spain) and at the LMU Munich. After completing his doctorate at TUM (2007), he worked at Harvard Medical School, Boston, USA. Dietz has been a professor of Experimental Biophysics at TUM since 2009.
Awards
European Research Council (ERC) Consolidator Grant (2016)
Gottfried Wilhelm Leibniz-Preis der DFG (2015)
Hoechst Dozentenstipendium, Aventis Foundation (2012)
Arnold Sommerfeld Award, Bay. Akademie der Wissenschaften (2010)
European Research Council (ERC) Starting Grant (2010)
Wagenbauer K, Sigl C, Dietz H: "Gigadalton-scale shape-programmable DNA assemblies". Nature. 2017; 552: 78-83.
Abstract
Praetorius F, Kick B, Behler K, Honemann M, Weuster-Botz D, Dietz H: "Biotechnological mass production of DNA origami". Nature. 2017; 552: 84-87.
Abstract
Praetorius F, Dietz H: "Self-assembly of genetically encoded DNA-protein hybrid nanoscale shapes". Science. 2017; 335 (6331).
Abstract
Kilchherr F, Wachauf C, Pelz B, Rief M, Zacharias M, Dietz H: "Single-molecule dissection of stacking forces in DNA". Science. 2016; 353 (6304).
Abstract
Gerling T, Wagenbauer K, Neuner A, Dietz H: "Dynamic DNA devices and assemblies formed by shape-complementary, non-base pairing 3D components". Science. 2015; 347 (6229): 1446-1452.
Abstract