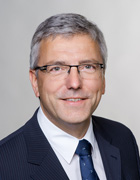 Academic Career and Research Areas
The research interests of Professor Disse (b. 1963) focus on three different areas: process-based hydrological modeling of river basins, flood risk management and the sustainable management of water resources. His experimental research concentrates on hydrological processes in steep drainage basins with the main emphasis on runoff generation and concentration as well as snow measurement and modeling.
Professor Disse studied civil engineering at the Universities of Hanover and Karlsruhe. He worked for seven years in Karlsruhe as a research assistant at the Institute of Hydrology and Water Management under the supervision of Professor Plate. In 1995 he received a doctorate for his work on groundwater recharge and regional evapotranspiration. Subsequently he accepted an appointment at the German Federal Institute of Hydrology (BfG) in Koblenz where he conducted research on the morphology of water bodies and flood modeling. In 2003 Professor Disse assumed the position of professor of water management and resources protection at the University of the German Federal Armed Forces in Munich. In 2011 he took a semester off to conduct research at the University of Arizona in Tucson, USA, in the Department of Hydrology and Water Resources. In July 2013 he was given a faculty appointment at TUM.
Key Publications
Disse M: "Kapitel 3: Hydrologische Grundlagen". In: Hochwasser-Handbuch, Auswirkungen und Schutz. Editors: Patt H, Jüpner R. Berlin Heidelberg: Springer Verlag, 2013: 17-90.
Merz B, Hall J, Disse M, Schumann A: "Fluvial flood risk management in a changing world". In: Risk management of extreme flood events. Editors: Merz B, Disse M, Günther K, Schumann A. NHESS - Special Issue. 2010; 10: 509-527.
Abstract
Rieger W, Winter F, Disse M: "Uncertainties of Soil Parameterisation in Process-Based Simulation of Distributed Flood Control Measures". Advances in Geosciences. 2010; 27: 121-129.
Abstract
Disse M: "Validation of a simple model to determine regional evapotranspiration and groundwater recharge rates". Physics and Chemistry of the Earth. 1999; 24(4): 325-330.
Bardossy A, Disse M: "Fuzzy rule-based models for infiltration". Water Resources Research. 1993; 29(2): 373-382.