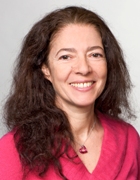 Academic Career and Research Areas
The principle aim of Professor Djabali's research on the molecular and cellular pathogenesis of premature ageing, in particular of Hutchinson-Gildford Progeria Syndrome (HGPS), is to develop preventative strategies to slow down the ageing process and the course of age-related disease. A major focus of this research is stem cell research and its significance for tissue regeneration during the ageing process.
After completing her studies in biochemistry (Université Paris 7), Professor Djabali performed her doctoral studies in biology at the College de France (Professor Gros) and at the Rockefeller University with Professor Guenter Blobel (Nobel Prize 1999). Further positions included a postdoctoral post at EMBL Heidelberg (1992), chargé de recherche at CNRS (1994) and assistant professor at Columbia University, NY, USA (2004). Since 2009 she and her laboratory have been part of the Department of Dermatology and Allergy and the Central Institute for Medical Technology. Professor Djabali has successfully acquired funding for a significant number of projects (R03 NIH/NIAMS (2002-2005), K01 NIH/NIAMS (2003-2009) und 2x R01 NIH/NIA (2005-2010).
Awards
Christine Kühne Center for Allergy Research and Education (CK-CARE) (2010-2011)
Fellow of the Alexander von Humboldt Foundation (2009-2014)
Irving Clinical Research Career Award (2006-2010)
Progeria Research Foundation (2005-2007)
Dermatology Foundation (2002)
Key Publications
Röhrl JM, Arnold R, Djabali K: "Nuclear Pore Complexes Cluster in Dysmorphic Nuclei of Normal and Progeria Cells during Replicative Senescence". Cells. 2021; 10(1): 153.
Abstract
Liu C, Arnold R, Henriques G, Djabali K. Liu C, Arnold R, Henriques G, Djabali K: "Inhibition of JAK-STAT Signaling with Baricitinib Reduces Inflammation and Improves Cellular Homeostasis in Progeria Cells". Cells. 2019; 8(10): 1276.
Abstract
Lu X, Djabali K: "Autophagic Removal of Farnesylated Carboxy-Terminal Lamin Peptides". Cells. 2018; 7(4): 33.
Abstract
Budel L, Djabali K: "Rapid isolation and expansion of skin-derived precursor cells from human primary fibroblast cultures". Biol Open. 2017; 6(11): 1745-1755.
Abstract
Gabriel D, Shafry DD, Gordon LB, Djabali K: "Intermittent treatment with farnesyltransferase inhibitor and sulforaphane improves cellular homeostasis in Hutchinson-Gilford progeria fibroblasts". Oncotarget. 2017; 8(39): 64809-64826.
Abstract