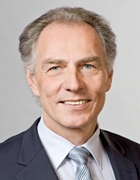 Prof. Dr.-Ing. Klaus Drechsler
Academic Career and Research Areas
Prof. Drechsler's research fields are in the areas of materials science, structural mechanics, manufacturing technology and fiber-reinforced materials (carbon composites).
Prof. Drechsler (b. 1960) studied aeronautic and aerospace engineering at the University of Stuttgart. He also completed his doctorate there in 1991 on the topic, "On the design and calculation of bonded fiber materials with three-dimensional textile reinforcement". Following a period as an assistant at the university's Institute for Aircraft Design, he joined the central laboratory of Messerschmitt-Bölkow-Blohm in Ottobrunn. There, he held the position of senior scientist and head of department for the Plastics division at DaimlerChrysler and EADS. In 2002, he accepted the positions of Director and Chair of the Institute for Aircraft Design of the University of Stuttgart. Since 2009, he has headed the Chair of Carbon Composites at TUM. He is also director of the Fraunhofer Research Institution for Casting, Composite and Processing Technology IGCV in Augsburg.
Awards
Admission to the National Academy of Science and Engineering acatech (2018)
AVK award (2015/2016/2017)
Admission to the Saxon Academy of Sciences (2010)
SAMPE Fellow Award (2008)
Admission to the scientific working group of university professors of plastics engineering WAK (2004)
Key Publications
Eberl L, Avila Gray L, Zaremba S, Drechsler K: "The effect of fiber undulation on the strain field for pinned composite/titanium joints under tension". Composites Part A: Applied Science and Manufacturing. 2017; 103: 148-160.
Abstract
Kollmannsberger A, Lichtinger R, Hohenester F, Ebel C, Drechsler K: "Numerical analysis of the temperature profile during the laser-assisted automated fiber placement of CFRP tapes with thermoplastic matrix". Journal of Thermoplastic Composite Materials. 2017.
Abstract
Schäfer MK, Raffelt W, Zaremba S, Drechsler K: "Ultrasonic mixing head for liquid composite molding: Process and material characteristics". Polymer Composites. 2017.
Abstract
Schäfer PM, Gierszewski D, Kollmannsberger A, Zaremba S, Drechsler K: "Analysis and improved process response prediction of laser- assisted automated tape placement with PA-6/carbon tapes using Design of Experiments and numerical simulations". Composites Part A: Applied Science and Manufacturing. 2017; 96: 137-146.
Abstract
Mayer N, Prowe J, Havar T, Hinterhölzl R, Drechsler K: "Structural analysis of composite components considering manufacturing effect". Composite Structures. 2016; 140: 776-782.
Abstract