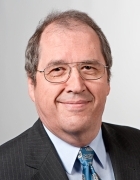 Prof. Dr.-Ing. Jörg Eberspächer
Academic Career and Research Areas
Prof. Eberspächer (b. 1945) conducts research into telecommunication networks and systems. His work focuses on the architectures of future optical and mobile networks, the future internet, network planning, communication technology in vehicles and social aspects of information technology.
Prof. Eberspächer studied electrical engineering at the University of Stuttgart (graduating in1976). Between 1977 and 1990, he worked as a researcher at Siemens AG, his last position being head of systems planning for private networks. Since 1990, he has held the Chair of Communication Networks at TUM. He was co-founder of the Center for Digital Technology and Management (CDTM) in Munich. From 2000 to 2002, he was Chairman of the Information Technology Society (ITG) of the VDE. He was Dean of the Faculty of Electrical Engineering and Information Technology at TUM from 2002 to 2005. Prof. Eberspächer is a member of the German Academy of Sciences (Leopoldina) and acatech and a visiting professor at Tongji University in Shanghai. He is chairman of the board of trustees of the Fraunhofer Heinrich Hertz Institute in Berlin and a member of the board of MÜNCHNER KREIS.
Key Publications
Eberspächer J, Kiese M, Wessäly R: "Optimization of Communication Networks". In: Production Factor Mathematics. Editor: Grötschel M, Mehrmann V. 2010: 139-156.
Abstract
Hanka O, Spleiß C, Kunzmann G, Eberspächer J: "A novel DHT-based network architecture for the Next Generation Internet". In: Eighth International Conference on Networks . Editor: Dini P. 2009: 332-341.
Abstract
Eberspächer J, Vögel H-J, Bettstetter C, Hartmann C: GSM - Switching, Services and Protocols. Chichester: John Wiley & Sons, 2008.
Nagel R, Eichler S, Eberspächer J: "Intelligent Wireless Communication for Future Autonomous and Cognitive Automobiles". In: Proc. IEEE Intelligent Vehicles Symposium (IV) . Editor: IEEE. 2007: 716-721.
Abstract
Eberspächer J, Schollmeier R: "First and second generation of peer-to-peer systems". In: Peer-to-Peer Systems and Applications. Editor: Steinmetz R, Wehrle K. 2005: 35-56.