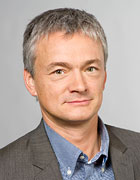 Prof. Dr. Florian Einsiedl
Academic Career and Research Areas
Professor Einsiedl's (b. 1968) research and teaching interests focus on the groundwater ecosystem. Groundwater represents an important drinking water resource in Germany. As a hydrogeologist and biogeochemist, Professor Einsiedl investigates hydraulic issues and new biogeochemical processes in shallow and deep groundwater systems. In his research stable isotope technique represents a key tool. The goal of his scientific work is to gain a holistic understanding of the groundwater ecosystem for future sustainable use of the drinking water resources, both in terms of quality and quantity.
Professor Einsiedl spent his early academic career in Munich, completing his first degree (1991-1996, Diploma) and his PhD in hydrogeology at LMU Munich (1996-2000). Postdoctoral studies first took him to the Institute of Hydrology at Helmholtz Center Munich (2000-2003) and subsequently as a research group leader to the Institute of Groundwater Ecology (2003-2008), a unit within the research center. He then moved to the National University of Ireland until his appointment as an associate professor at the Technical University of Denmark in Copenhagen (2009-2012). In 2010 he completed his postdoctoral teaching qualification (habilitation) at the University of Bayreuth and joined TUM as a full professor for hydrogeology in the Faculty of Civil Engineering and Geodesy in 2012.
Winter, T., Einsiedl, F (2022): Combining 14C-DOC and 81Kr with hydrochemical data to identify recharge processes in the South German Molasse Basin; Vol. 612, J. of Hydrology, ISSN 0022-1694.
Abstract
Konrad, F., Savvatis, A., Degen, D., Wellmann, F., Einsiedl, F., & Zosseder, K. (2021): Productivity enhancement of geothermal wells through fault zones: Efficient numerical evaluation of a parameter space for the Upper Jurassic aquifer of the North Alpine Foreland Basin. Geothermics, 95, 102119.
Abstract
Einsiedl, F., Wunderlich, A., Sebilo, M., Coskun, Ö. K., Orsi, W. D., Mayer, B. (2020): Biogeochemical evidence of anaerobic methane oxidation and anaerobic ammonium oxidation in a stratified lake using stable isotopes. Biogeosciences 17 (20): 5149 – 5161.
Abstract
Wunderlich, A., Meckenstock, R.U., Einsiedl, F. (2013): A mixture of nitrite-oxidizing and denitrifying microorganisms affects the δ18O of dissolved nitrate during anaerobic microbial denitrification depending on the δ18O of ambient water. Geochimica et Cosmochimica Acta 119: 31-45.
Abstract
Einsiedl F, Hertkorn N, Wolf M, Frommberger M, Schmitt-Kopplin P, Koch BP: "Rapid biotic molecular transformation of fulvic acids in a karst groundwater system". Geochimica et Cosmochimica Acta. 2007; 71(22): 5474-5482.
Abstract