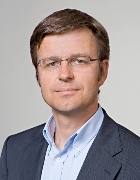 Prof. Dr. Stefan Hanns Engelhardt
Academic Career and Research Areas
Professor Engelhardt conducts research in the field of signal transduction in the cardiovascular system.
Professor Engelhardt (*1969) studied medicine at the universities of Regensburg, Munich and Harvard. After his master's degree at the Max Planck Institute of Biochemistry and his PhD and postdoc at the University of Würzburg, Professor Engelhardt headed a junior research group at the DFG Center for Experimental Biomedicine (Rudolf Virchow Center). He was a professor of pharmacology at the University of Würzburg, before being appointed to the Chair of Pharmacology and Toxicology at the TUM in 2008. He also serves as speaker of the German Center for Cardiovascular Research (DZHK) in Munich.
Awards
Outstanding Achievement Award, European Society of Cardiology (2009)
Arthur-Weber Prize, German Cardiac Society (2006)
Oskar Lapp Prize, German Cardiac Society (2005)
Biology Prize, Academy of Science at the Universitiy of Göttingen (2004)
Hengstberger Prize, German Cardiac Society (2004)
Key Publications
Sassi Y, Avramopoulos P, Ramanujam D, Grüter L, Werfel S, Giosele S, Brunner AD, Esfandyari D, Papadopoulou AS, De Strooper B, Hübner N, Kumarswamy R, Thum T, Yin X, Mayr M, Laggerbauer B, Engelhardt S: "Cardiac myocyte miR-29 promotes pathological remodeling of the heart by activating Wnt signaling". Nature Communications. 2017; 8(1): 1614.
Abstract
Sassi Y, Ahles A, Truong DJ, Baqi Y, Lee SY, Husse B, Hulot JS, Foinquinos A, Thum T, Müller CE, Dendorfer A, Laggerbauer B, Engelhardt S: "Cardiac myocyte-secreted cAMP exerts paracrine action via adenosine receptor activation". Journal of Clinical Investigation. 2014; 124(12): 5385-5397.
Abstract
Ahles A, Rochais F, Frambach T, Bünemann M, Engelhardt S: "A polymorphism-specific memory mechanism in the ß2-adrenergic receptor". Science Signaling. 2001; 4 (185): ra53.
Abstract
Thum T, Gross C, Fiedler J, Fischer T, Kissler S, Bussen M, Galuppo P, Just S, Rottbauer W, Frantz S, Castoldi M, Soutschek J, Koteliansky V, Rosenwald A, Basson MA, Licht JD, Pena JT, Rouhanifard SH, Muckenthaler MU, Tuschl T, Martin GR, Bauersachs J & Engelhardt S: "MicroRNA-21 contributes to myocardial disease by stimulating MAP kinase signalling in fibroblasts". Nature. 2008; 456: 980-984.
Abstract
Buitrago M, Lorenz K, Maass AH, Oberdorf-Maass S, Keller U, Schmitteckert EM, Ivashchenko Y, Lohse MJ & Engelhardt S: "The transcriptional repressor NAB1 is a specific regulator of pathological cardiac hypertrophy". Nature Medicine. 2005; 11: 837-844.
Abstract