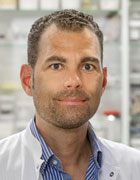 Academic Career and Research Areas
Professor Eyer (*1971) conducts research in the field of clinical toxicology to better understand toxicokinetic and toxicodynamic processes and test them using experimental and clinical models. Key aspects of his research include methods of poison elimination, addiction medicine and critical care toxicology. A further field of research is the genetics of alcoholic cirrhosis of the liver.

After completing his undergraduate and doctoral studies (2000) at LMU Munich, Professor Eyer took up a position at TUM's university hospital Klinikum rechts der Isar. From 2001, he served as assistant physician in the field of clinical toxicology. Professor Eyer acquired his German medical board certification in internal medicine in 2007, with additional certification in internal intensive care medicine (2009) and addiction medicine (2010). Having obtained his postdoctoral teaching qualification (habilitation) in 2010, Professor Eyer became senior physician in the Department of Clinical Toxicology. His clinical specialties are critical care toxicology and addiction medicine. He was appointed to a professorship at TUM in 2012.
Stickel F, Buch S, Nischalke HD, Weiss KH, Gotthardt D, Fischer J, Rosendahl J, Marot A, Elamly M, Casper M, Lammert F, McQuillin A, Zopf S, Spengler U, Marhenke S, Kirstein MM, Vogel A, Eyer F, von Felden J, Wege H, Buch T, Schafmayer C, Braun F, Deltenre P, Berg T, Morgan MY, Hampe J: "Genetic variants in PNPLA3 and TM6SF2 predispose to the development of hepatocellular carcinoma in individuals with alcohol-related cirrhosis". Am J Gastroenterol. 2018; 113(10): 1475-83.
Abstract
Schrettl V, Felgenhauer N, Rabe C, Fernando M, Eyer F: "L-Arginine in the treatment of valproate overdose - five clinical cases". Clin Toxicol (Phila). 2017; 55(4): 260-266.
Abstract
Fischer J, Eberlein B, Hilger C, Eyer F, Eyerich S, Ollert M, Biedermann T: "Alpha-gal is a possible target of IgE-mediated reactivity to antivenom". Allergy. 2017; 72(5): 764-771.
Abstract
Buch S, Stickel F, Trépo E, Way M, Herrmann A, Nischalke HD, Brosch M, Rosendahl J, Berg T, Ridinger M, Rietschel M, McQuillin A, Frank J, Kiefer F, Schreiber S, Lieb W, Soyka M, Semmo N, Aigner E, Datz C, Schmelz R, Brückner S, Zeissig S, Stephan AM, Wodarz N, Devière J, Clumeck N, Sarrazin C, Lammert F, Gustot T, Deltenre P, Völzke H, Lerch MM, Mayerle J, Eyer F, Schafmayer C, Cichon S, Nöthen MM, Nothnagel M, Ellinghaus D, Huse K, Franke A, Zopf S, Hellerbrand C, Moreno C, Franchimont D, Morgan MY, Hampe J: "A genome-wide association study confirms PNPLA3 and identifies TM6SF2 and MBOAT7 as risk loci for alcohol-related cirrhosis". Nat Genet. 2015; 47(12): 1443-8.
Abstract
Eyer F, Steimer W, Nitzsche T, Jung N, Neuberger H, Müller C, Schlapschy M, Zilker T, Skerra A: "Intravenous application of an Anticalin dramatically lowers plasma digoxin levels and reduces its toxic effects in rats". Toxicol Appl Pharmacol. 2012; 263(3): 352-359.
Abstract