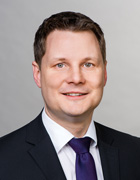 Academic Career and Research Areas
The research area of Professor Eyerich (b. 1979) is the immunology of inflammatory skin diseases such as psoriasis or atopic eczema. As an MD/PhD, his ultimate goal is to improve patient care through the development of innovative diagnostic and therapeutic tools.
Professor Eyerich studied medicine at the University of Würzburg and at TUM. After graduation he joined TUM's "Medical Life Science and Technology" PhD program. He also worked as a postdoctoral researcher at the Istituto Dermopatico Dell'immacolata in Rome. Professor Eyerich has received numerous grants and awards for his translational research activities. These have been from organizations such as the Bavarian Academy of Sciences and Humanities, the German Research Foundation, the Fritz Thyssen Foundation and the Bavarian Research Foundation. In 2013 he was awarded a Heisenberg Professorship by the German Research Foundation.
Awards
German Psoriasis Prize (2018)
Proof of Concept Grant, European Research Council (ERC) (2017)
Starting Grant, European Research Council (ERC) (2015)
Oscar Gans Prize (2015)
Paul Langerhans Prize (2015)
Key Publications
Garzorz-Stark N, Lauffer F, Krause L, Thomas J, Atenhan A, Franz R, Roenneberg S, Boehner A, Jargosch M, Batra R, Mueller NS, Haak S, Groß C, Groß O, Traidl-Hoffmann C, Theis FJ, Schmidt-Weber CB, Biedermann T, Eyerich S, Eyerich K: "Toll-like receptor 7/8 agonists stimulate plasmacytoid dendritic cells to initiate TH17-deviated acute contact dermatitis in human subjects". Journal of Allergy and Clinical Imunology. 2018; 141(4):1320-1333.e11.
Abstract
Eyerich K, Eyerich S: "Immune response patterns in non-communicable inflammatory skin diseases". Journal of the European Academy of Dermatology and Venereology. 2018; 32(5):692-703.
Abstract
Quaranta M, Knapp B, Garzorz N, Mattii M, Pullabhatla V, Pennino D, Andres C, Traidl-Hoffmann C, Cavani A, Theis FJ, Ring J, Schmidt-Weber CB, Eyerich S, Eyerich K: "Intraindividual genome expression analysis reveals a specific molecular signature of psoriasis and eczema." Science translational medicine. 2014; 6(244): 244ra90.
Abstract
Eyerich S, Onken AT, Weidinger S, Franke A, Nasorri F, Pennino D, Grosber M, Pfab F, Schmidt-Weber CB, Mempel M, Hein R, Ring J, Cavani A, Eyerich Kl: "Mutual antagonism of T cells causing psoriasis and atopic eczema". New England Journal of Medicine. 2011; 365(3): 231-238.
Abstract
Eyerich S, Eyerich K, Pennino D, Carbone T, Nasorri F, Pallotta S, Cianfarani F, Odorisio T, Traidl-Hoffmann C, Behrendt H, Durham SR, Schmidt-Weber CB, Cavani A: "Th22 cells represent a distinct human T cell subset involved in epidermal immunity and remodeling". Journal of Clinical Investigation. 2009; 119(12): 3573-3585.
Abstract